Wild Horse Island
A Pontoon Boat trip to
Wild Horse Island and Painted Rocks
When we first traveled into the Flathead Valley, we were intrigued by Wild Horse Island. This Island is in the Big Arm area of Flathead Lake. It is about 2,164 acres and the highest hills on the island are 700 to 800 feet above the normal Lake level. The Salish-Kootenai Indians pastured horses on this island in order to make it much more difficult for other tribes to steal them. Among other things, there are Wild Horses and Bighorn Sheep living on the island.
We have wanted to 'step foot' on the island ever cents we first saw it. And NO cents is not spelled wrong, it is just used in the wrong context, so get over it! I am rarely in the right context anyway. It is just that to get to the island, you have to take a 'boat taxi' which is very pricey. So we thought that we might never get a chance to hike on the island.
Our Friends, Vicki and Dave, were camping with three other couples, all of which are friends of ours also, at Lake Mary Ronan. Lake Mary Ronan is just 8 miles or so from Dayton, Montana on the shore of the Big Arm of Flathead Lake. Vicki and Dave decided to rent a pontoon boat so the camping group would have something different and interesting to do. (exciting things to do are limited at Lake Mary Ronan) The pontoon boat would hold 12 and there were only 8 of them, so Vicki and Dave invited Debbie and I to tag along. Really made our Day!
So, with the excitement building by the hour, it was difficult waiting until Tuesday to meet them at Dayton, MT to board the pontoon. So let's go! I promise to 'bore you to tears' with interesting to me facts. Aren't you thrilled you don't have to 'walk a mile in my shoes'?
But, on the other hand, she wore a glove……. you might be a little interested in seeing this area from my viewpoint and it might become a 'thing' in your 'bucket list' to see.
As we left the dock at Dayton, I looked back at the Flathead Lake Sailing School sailboats. What a beautiful day!
For those that are not aware of the size of Flathead Lake, it is over 27 miles long and covers about 197 square miles. It is also about 370 feet deep at the deepest point. We are looking across Big Arm Bay over three miles of open water to the shoreline just east of Big Arm Montana between Wild Horse Island on the left foreground and Cromwell Island on the right. (sorry, I forgot to straighten this photo, as you know, I am about a half bubble off level anyway)
We made a little 'side trip' partway around Cromwell Island. This is the only house on Cromwell Island and rumored to be owned by the 5th wealthiest man in Russia, who knows……… Anyway, a few years ago, Cromwell Island was up for sale for about 70 million dollars.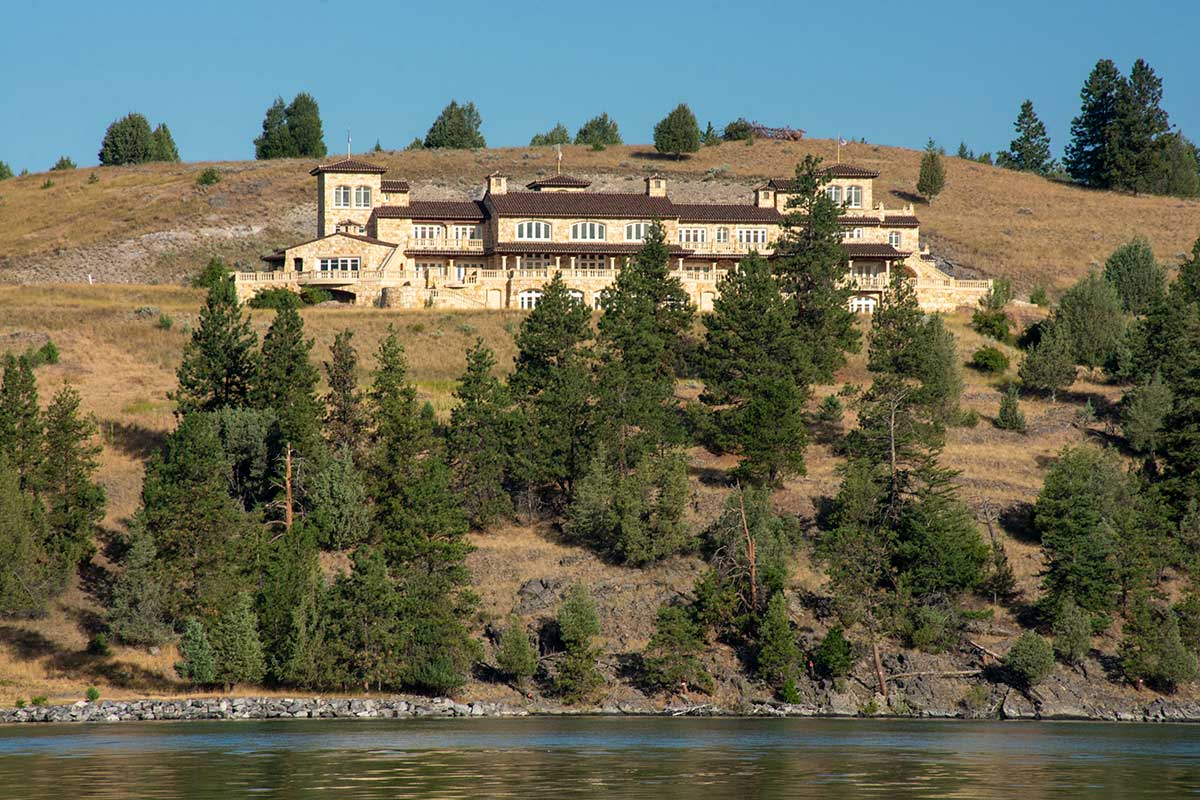 Continuing on to Wild Horse Island, there are a few places that are privately owned on the Island, but most of it is a Montana State Park. The views are magnificent.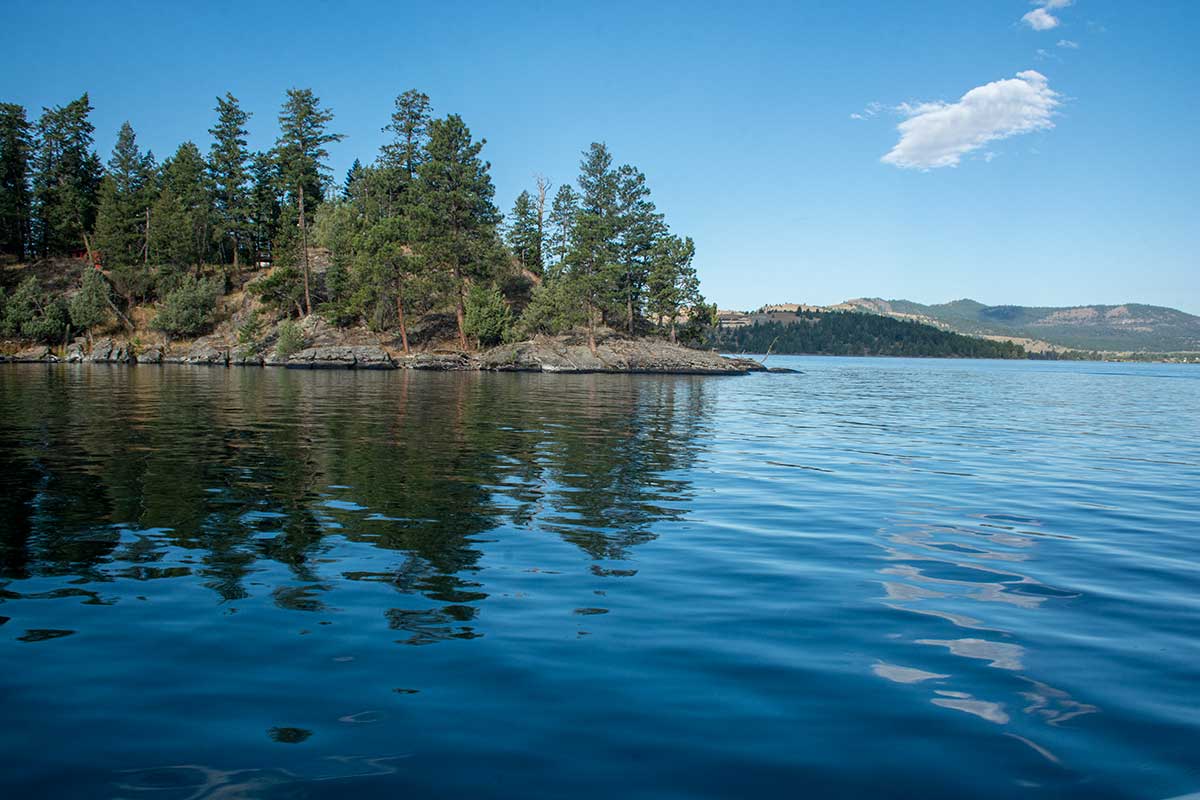 If you would like to find out more information about Flathead Lake, click this Button.
Coming into Skeeko Bay we could only imagine a herd of wild horses roaming the hills.
As we pulled ashore, as there is no dock, we looked up at a young Osprey looking down at us.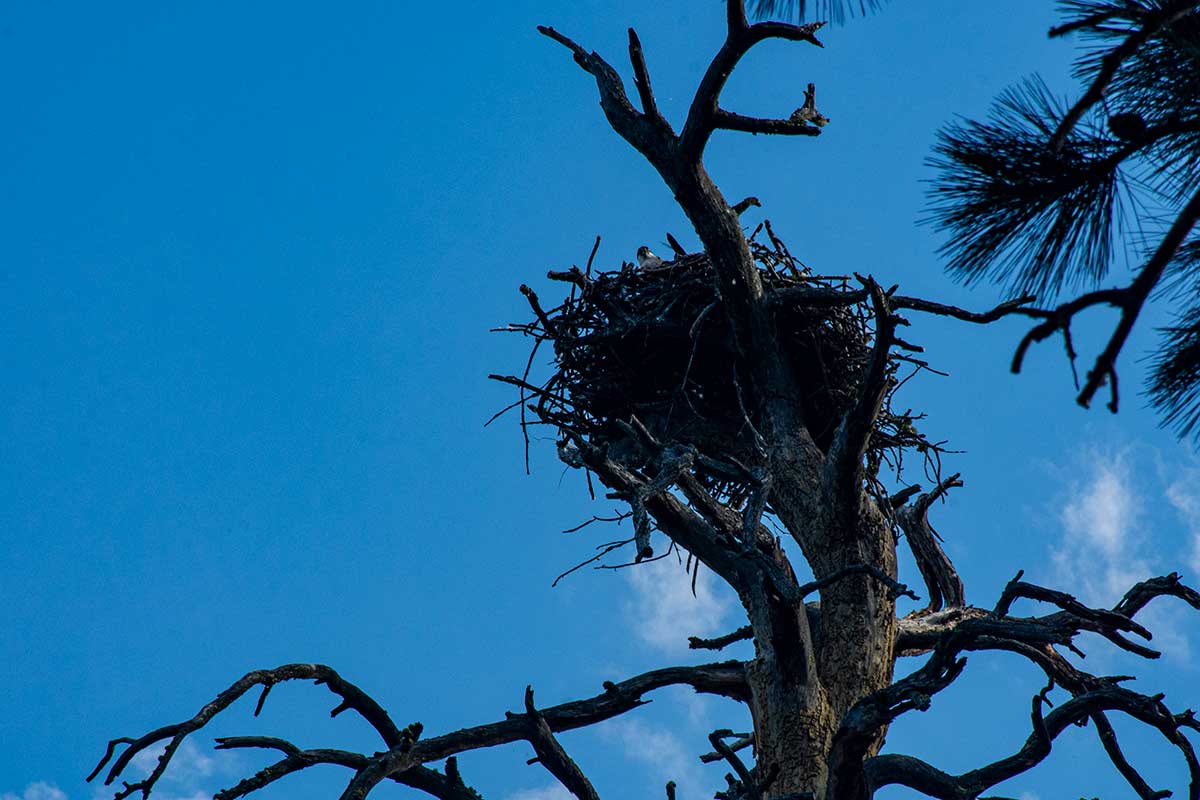 Looking across the north part of Big Arm as we began the hike to the 'Homestead'.
I looked back at the Osprey nest high in the top of an almost dead very tall pine tree.
I turned around and more of the crew were already heading up the trail to the 'Homestead'.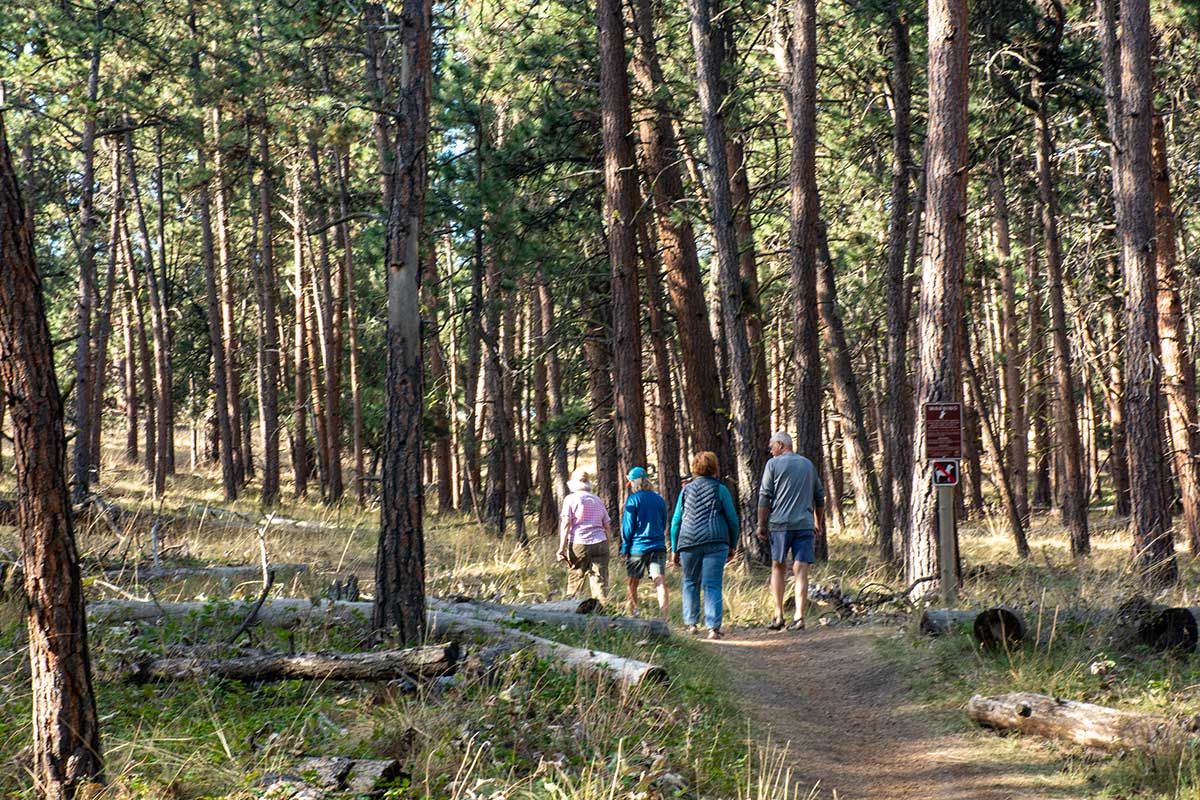 As we arrived at the 'Homestead', we noticed that only a couple of small buildings remain. If you have an interest in the History of Wild Horse Island, click on this Link below.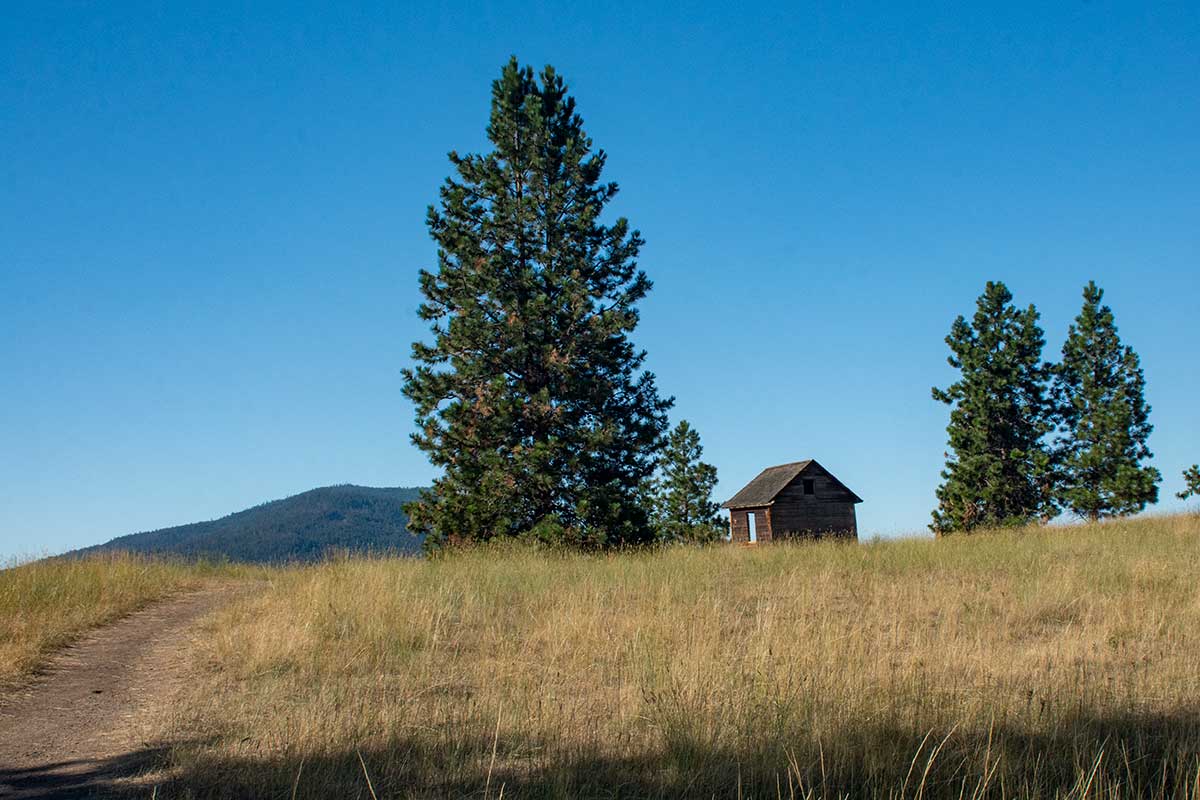 Some of our crew investigating one of the two buildings remaining at the 'Homestead'.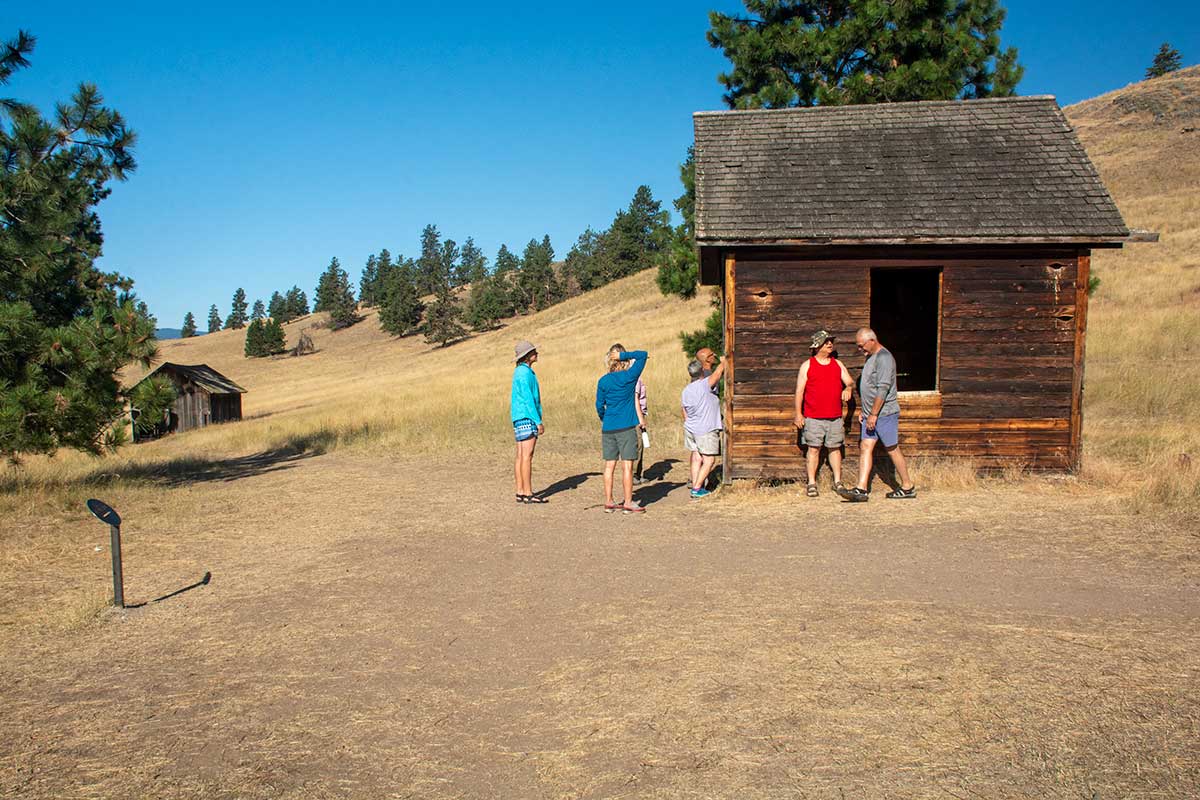 Checking out the second remaining building at the 'Homestead'. Notice the height of this magnificent old Ponderosa Pine.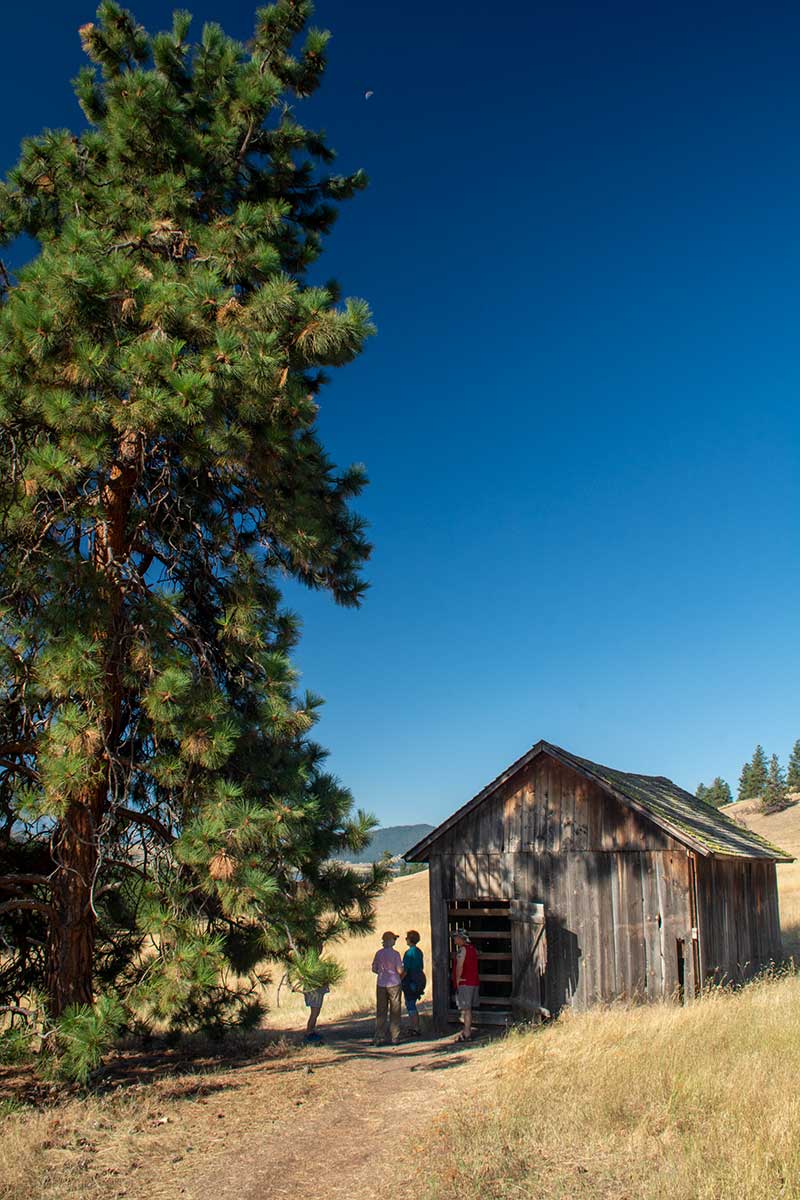 The Landscape of the Island has a rugged grandeur of it's own. Looking East from the 'Homestead'.
Looking North I can imagine Wild Horses roaming these hills. Must have been a very secure place to keep and raise horses for use by the tribe as they hunted bison, deer, elk, moose, etc. across the Flathead Valley.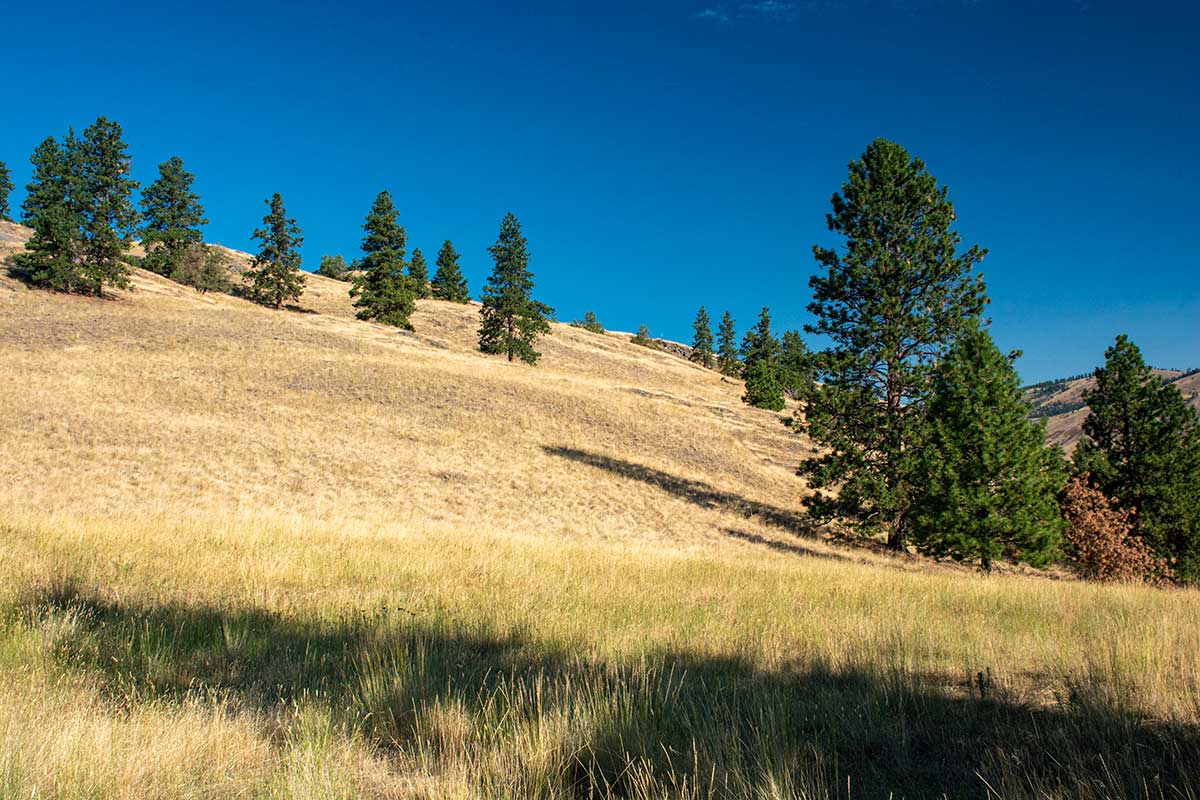 Looking Southwest across the pasture at Big Arm. I am always intrigued by the distance we see here in Montana. The tops of the mountains you see in the center of the photo are 18 miles away. Coming from many years in Indiana, we could rarely see more than a mile or so with an occasional view of a few miles. There is a reason they call this ' Big Sky Country'.
As we continued along the trail, we had a 'fly over' of three flying lawn chairs. Seeing the Island from that viewpoint must have been awesome!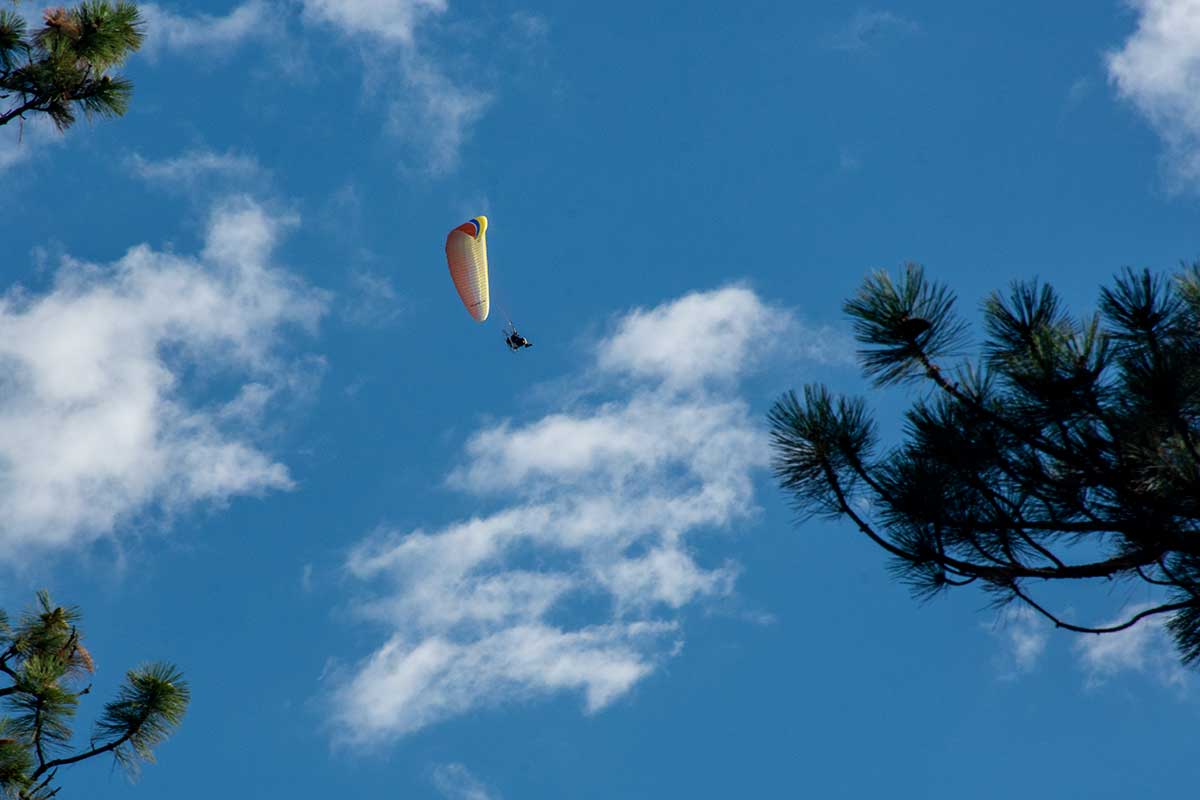 There are still some magnificent large Ponderosa Pine Trees on the Island.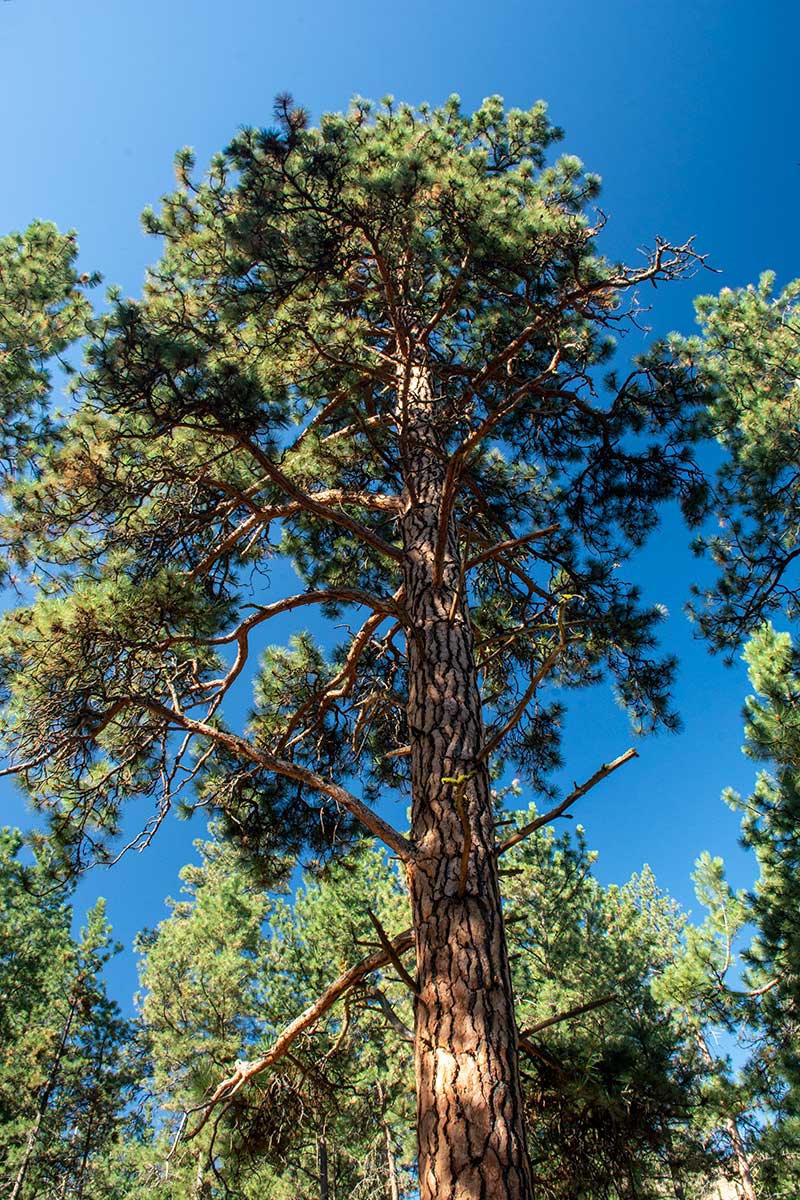 An awesome walk through the woods to the 'Homestead' and back to the boat to continue on to the Petroglyph Cliffs.
As we left Wild Horse Island, two young Ospreys intently watched us from their treetop nest.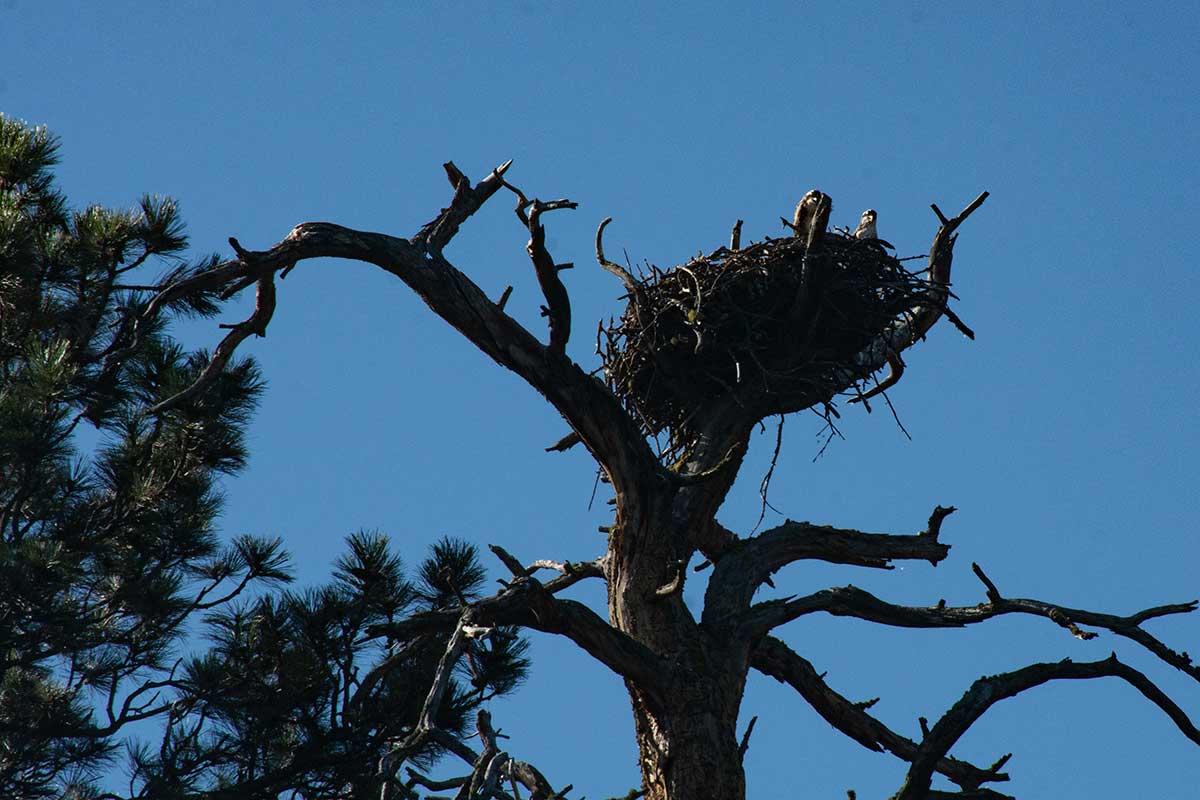 Looking back at the Northeast part of Wild Horse Island. Thinking about what the Island might have looked like when herds of Indian Horses roamed there.
As we headed North along the shoreline, we noticed the Cherry Orchards along the Lake. These Orchards produce awesome Cherries. Debbie and I picked (they have some you-pick orchards here on the Flathead) almost 50 pounds of Cherries in 2020 and put them in the freezer. Debbie makes some awesome desserts with these!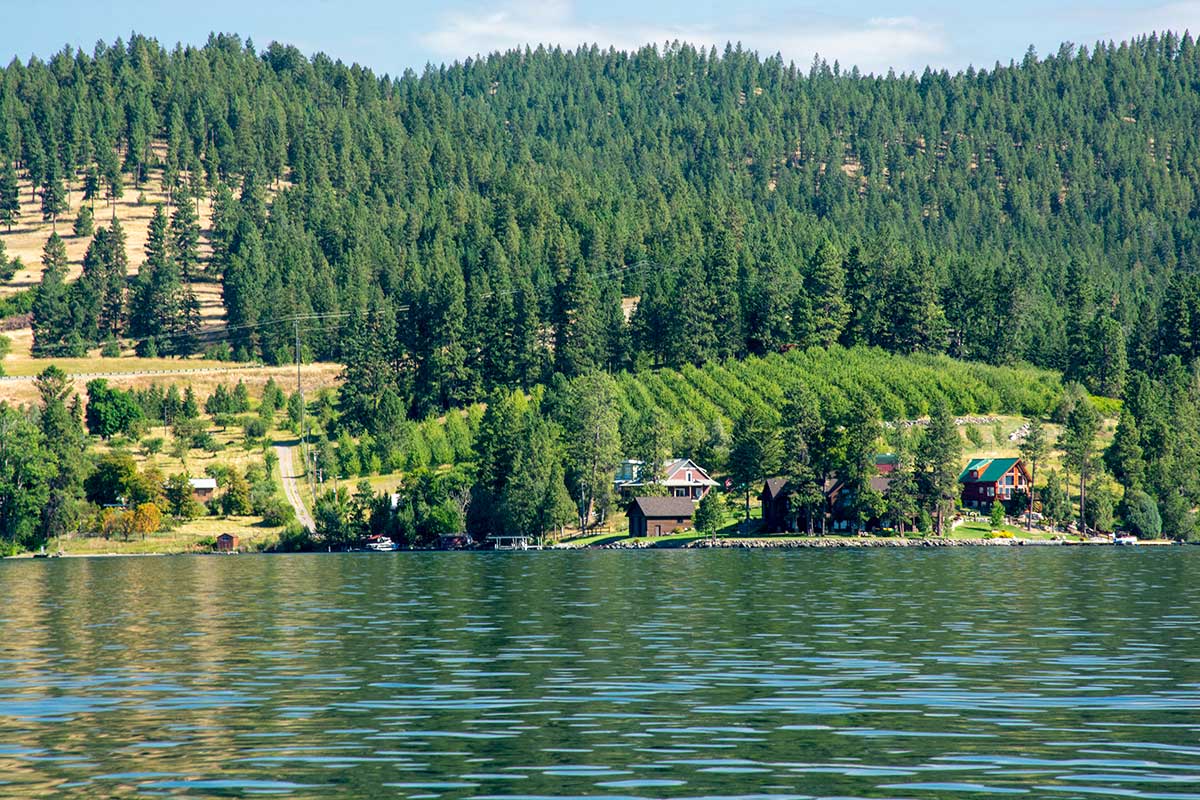 The Flathead Lake shoreline is quite diverse. From rocky beaches to shear cliffs, the views are awesome.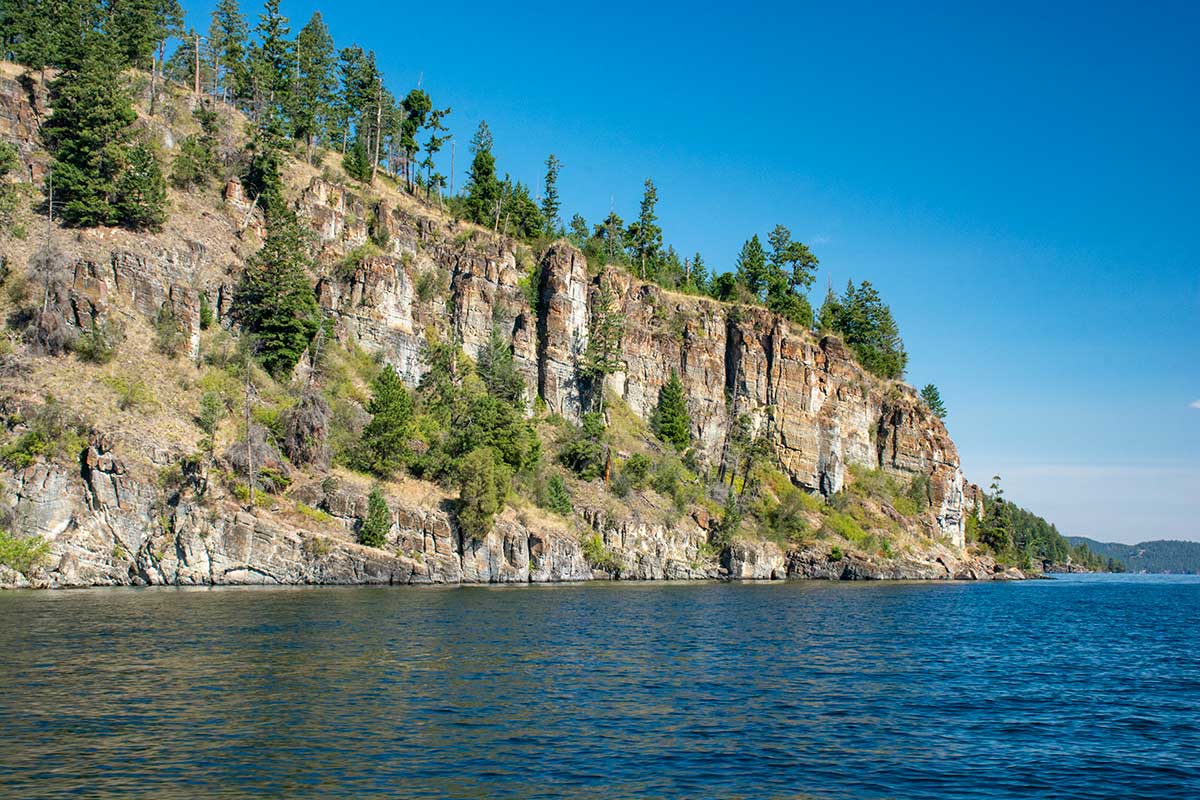 On some of these cliffs, like these here at Painted Rocks, there are Pictographs and Petroglyphs that are believed to be about 3,000 years old. These are only accessible by boat as the shear face of the cliff drops straight down into the Lake.
A bit of the Moon showing in the morning sky as we were awed at the Ponderosa Pines along the Cliffs.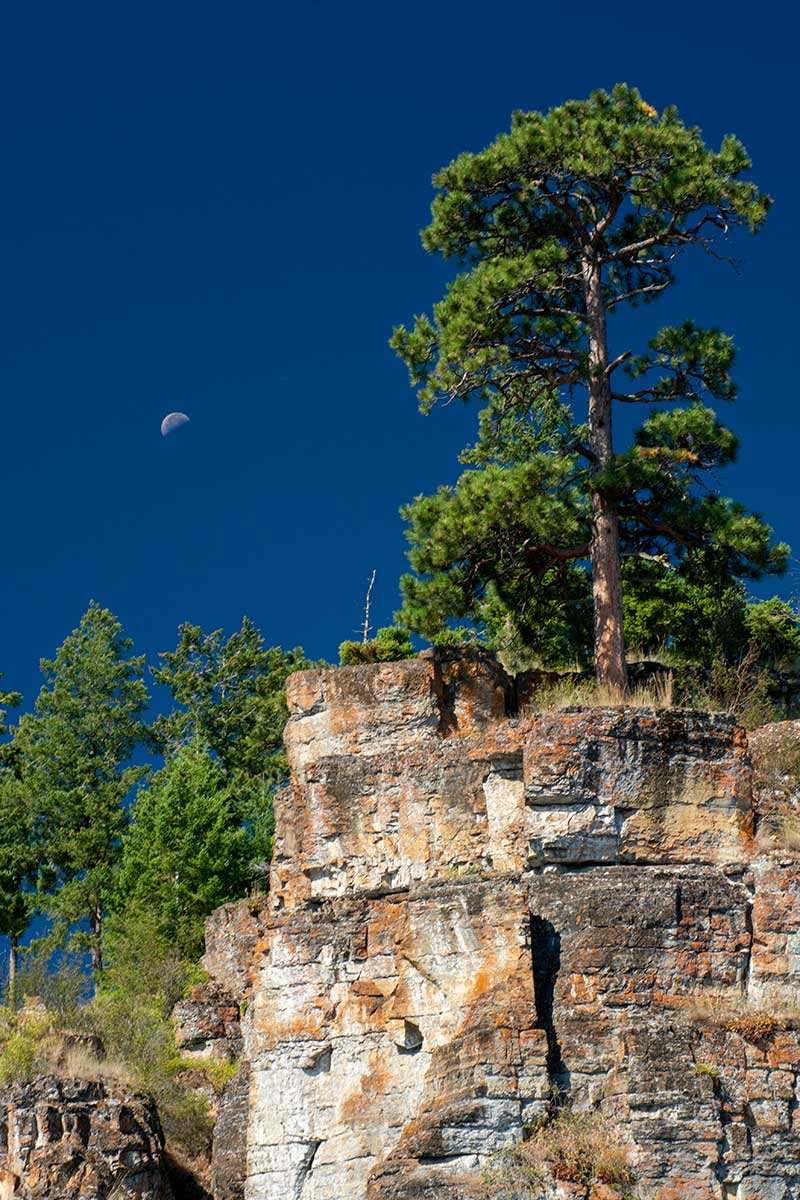 As we headed back across the Lake, we noticed a deer out for a swim. They apparently move from Island to Island in the Lake. There are many Islands in the Flathead Lake of less than an acre to the size of Wild Horse Island which is just over 2,000 acres.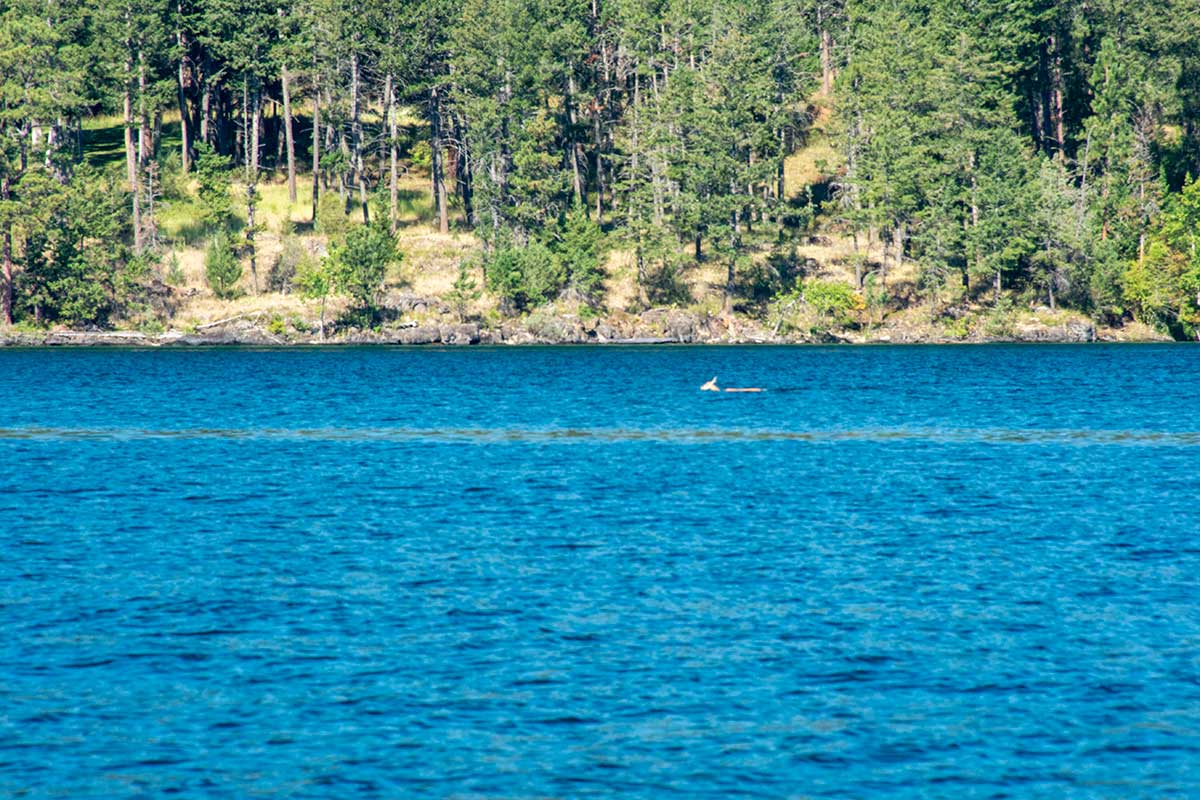 Tiny Rock Island is on the left and the a house on Shelter Island is on the right. Wild Horse Island is in the background behind Rock Island.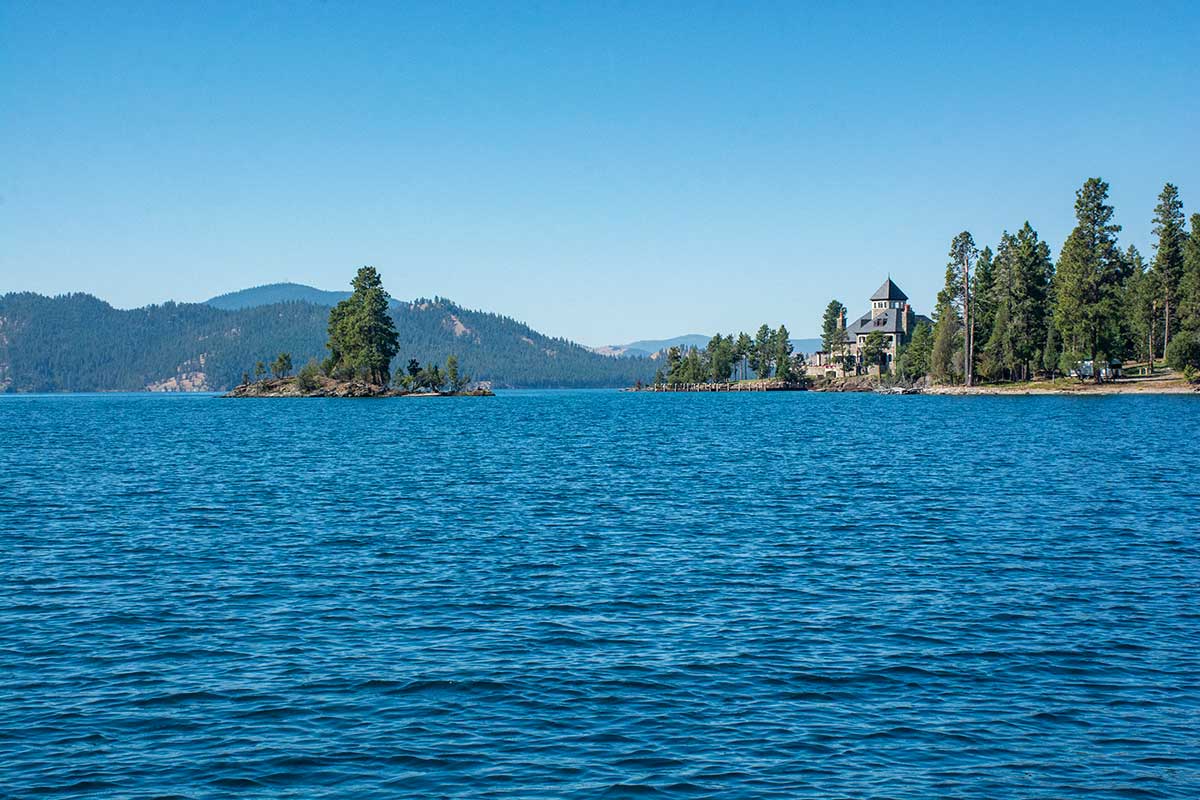 This house on Shelter Island is quite a mansion. Think about floating right up to the house and the boat being pulled into the basement on a cart. Such luxury!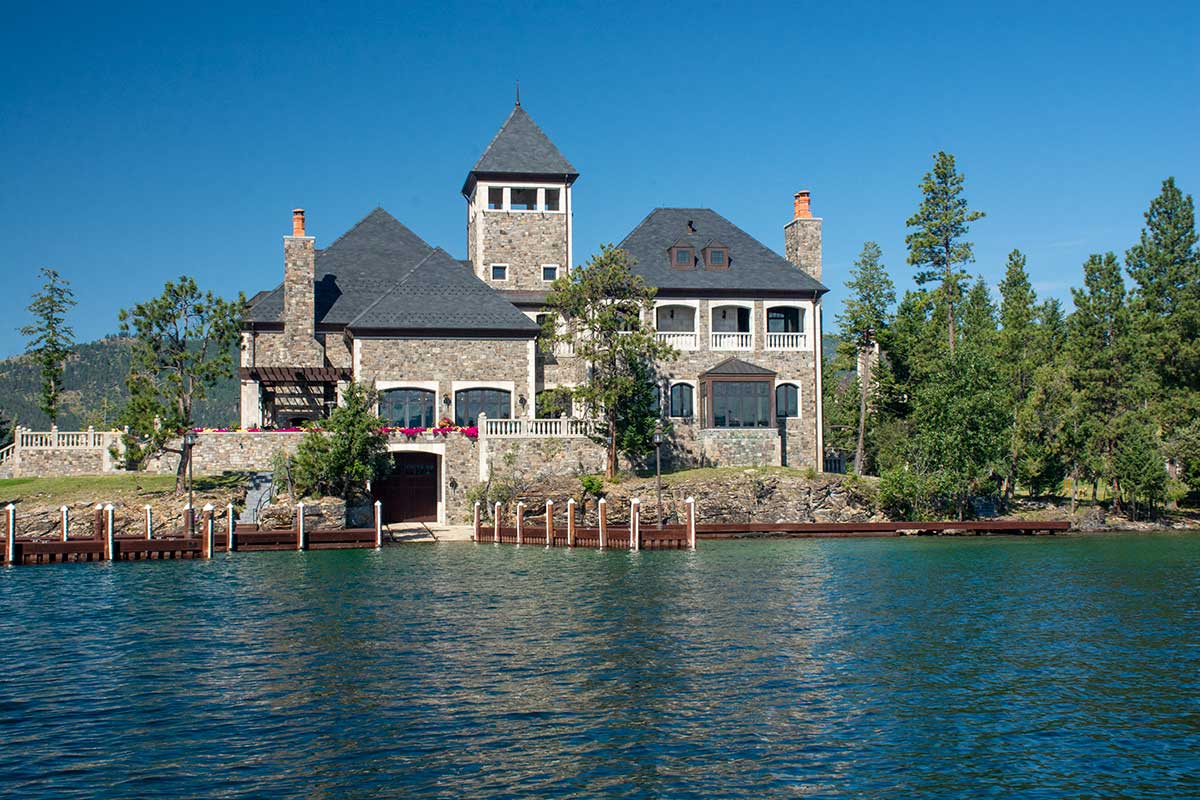 As we head back across Flathead Lake to Wild Horse Island, it becomes evident as to how large this lake is. We are about three miles from the Island at this point. And we are just in the Big Arm area of the Lake.
The rocky eastern point of Wild Horse Island. The Swan range of mountains in the background.
As we went around the south side of Wild Horse Island, this young Osprey was holding a stick, maybe it was showing us if we came closer, it would whap us with it. Who knows???
This is near the Kayak-Canoe beach on the South side of Wild Horse Island. At the time we took this, we had not planned on having either, but as some of you know, we are building a Shearwater Tandem Kayak and plan to make the voyage over to this point and hike up to the top of Wild Horse Island this year. (2021) We'll see…… If we make it, you can expect some photos!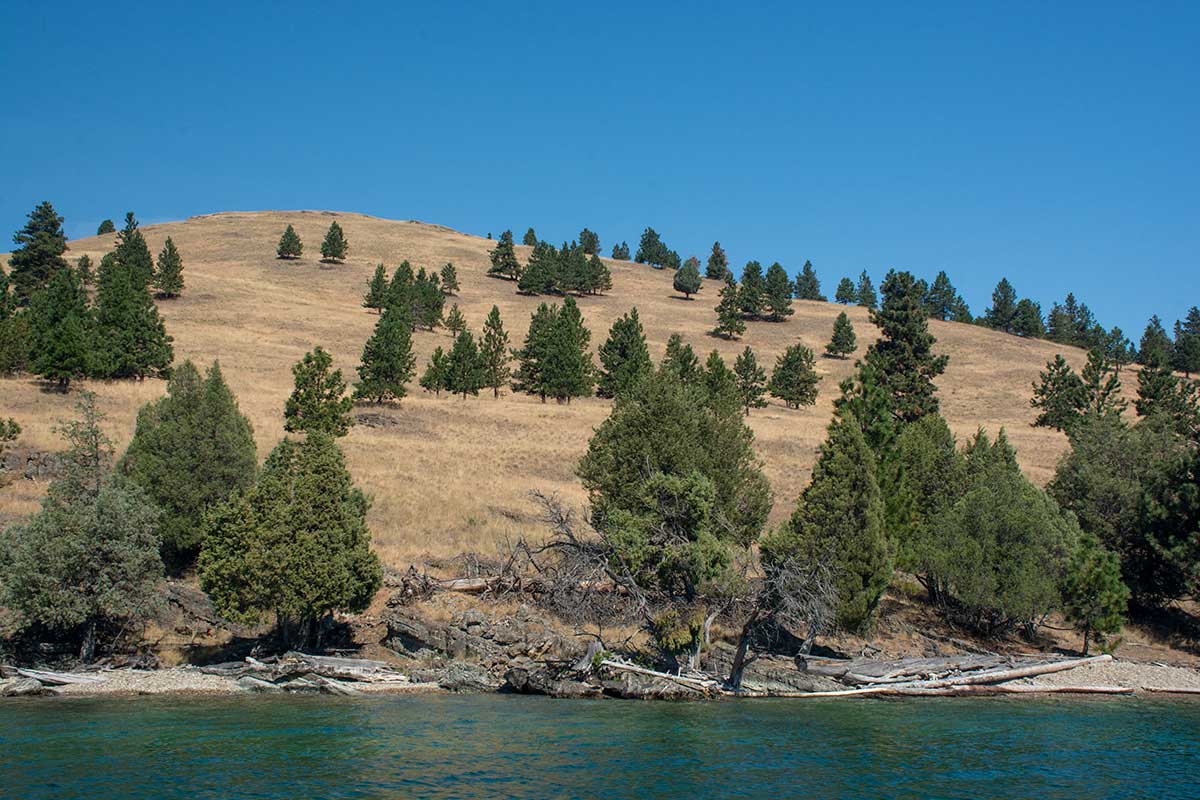 As we continued around Wild Horse Island, we crossed over to Melita Island and were greeted by a pair of Eagles.
As we rounded the Western most tip of Wild Horse Island, we were awed by the view of the hills above Dayton, Montana.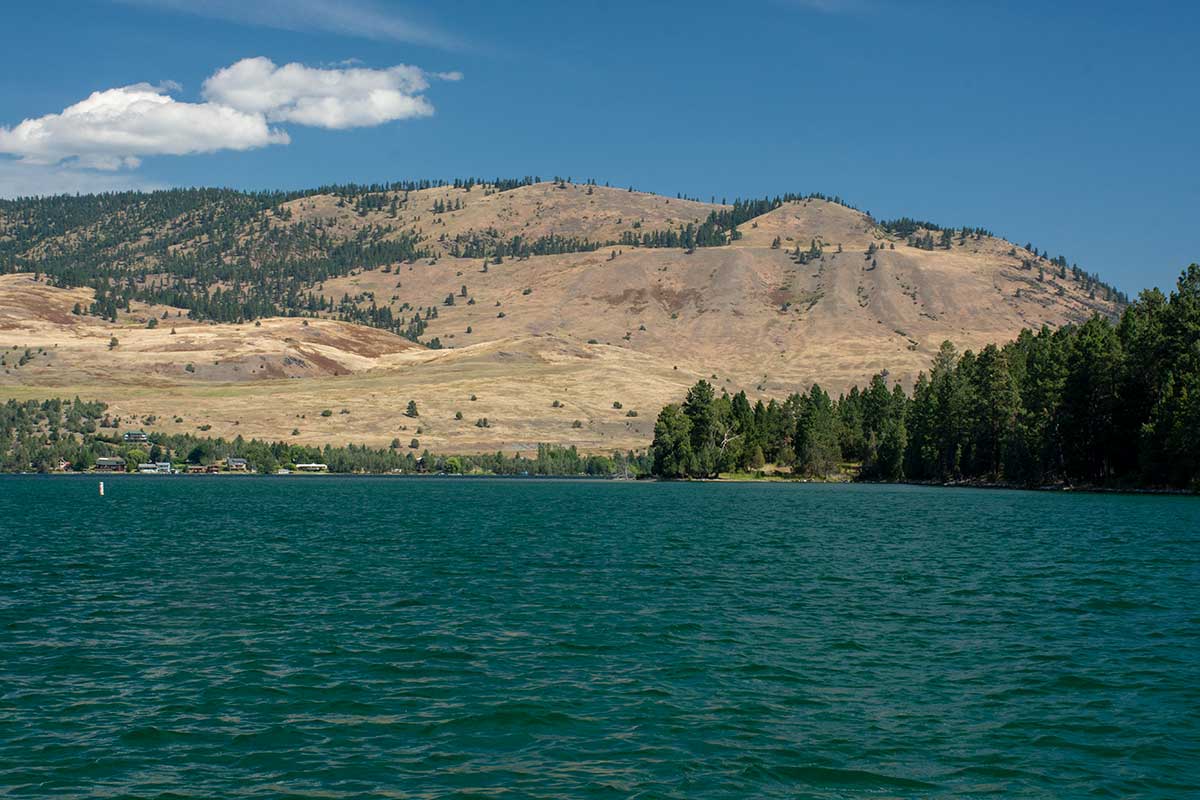 Coming to our 'departure point' from the Pontoon Boat, we were intently watched by many sea gulls on one of the old docks of the Flathead Lake Sailing School.
I hope you enjoyed this Pontoon Boat trip to Wild Horse Island with us and if you happen to find yourselves in Northwestern Montana, consider a trip to Wild Horse Island. Pontoon Boats can be rented at Big Arm and they are a wonderful platform for photography and just general boating on the Lake.
If you made it all the way through this Blog, you deserve a Medal !!! Please contact us to let us know that someone has finally done it!!!
If you have questions, comments or want to converse about this post, please contact us…….