Breezing around North America
These are just a few of the things that we have very much enjoyed over the last few years. I sometimes just like to 'highlight' some of the places we have been. We have such a thirst for learning about the places we visit that we are constantly acquiring books, maps and brochures in order to understand what we are seeing. We hope that these photographs inspire you to look deeper than just the surface into the beauty of these places.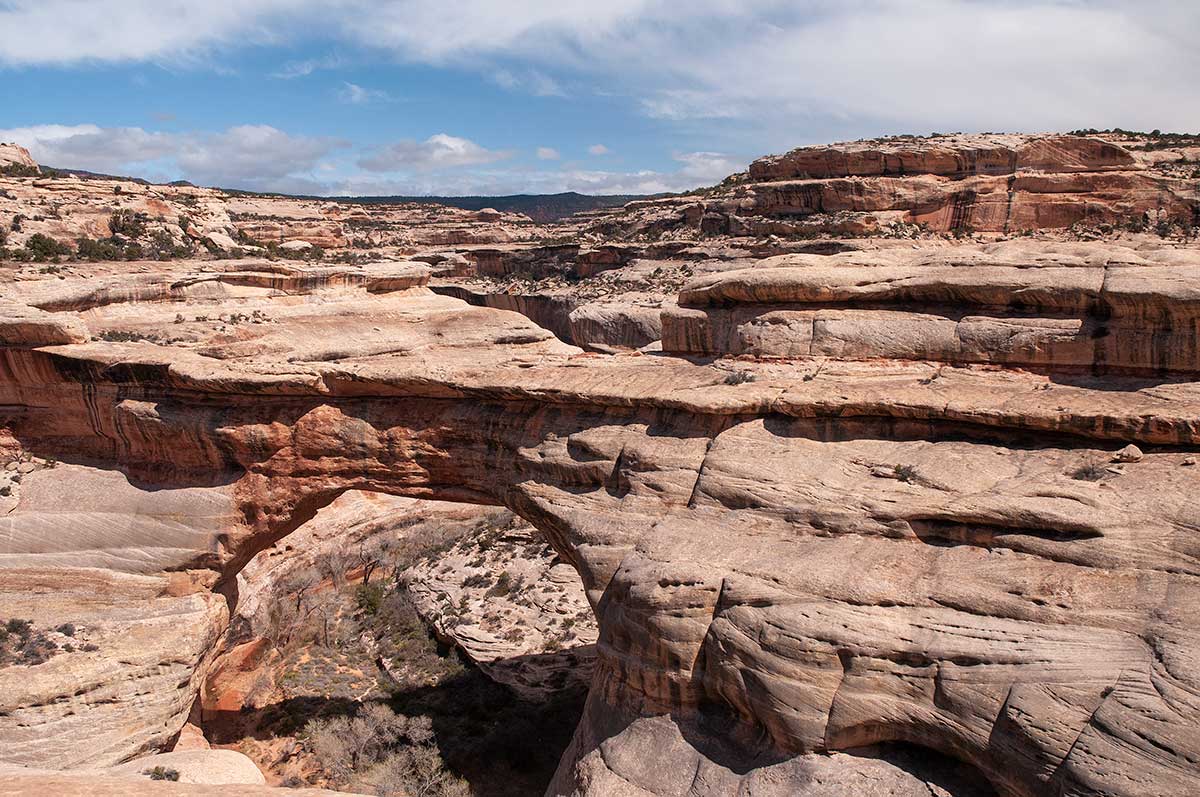 Natural Bridges National Monument, Utah
This is some rough landscape. It is an awesome area to see and actually is quite easy hiking, to our surprise. We hiked to two of the three major Natural Bridges and were awed by the size an grandeur of these structures. Southeastern Utah is a land of radiant color. In the hills, pale greens mingle with gray and white. Mesa tops glow with the red of the setting sun. Much of this color is derived from the presence of iron in different combinations with oxygen. Oxygen rusted the iron a brilliant orange-red. Without enough oxygen, iron turns green. When iron combines with both hydrogen and oxygen, it becomes yellow-orange. The Natural Bridges preserves some of the darkest skies in the country. In some areas, it's possible to see up to 15,000 stars throughout the night. By contrast, fewer than 500 stars may be visible from more urban environments. Natural Bridges National Monument became the first International Dark Sky Park certified by the International Dark Sky Association.
To see more of our photographs of the Natural Bridges area, click on this button.
Seward Harbor, Alaska
We spent a day cruising on a ship from Seward, photographing Wildlife and Glaciers. The trip took us out into Resurrection Bay in the Kenai Fjord. The quantity of birds and animals was amazing. We spotted Pacific white-sided dolphins, Whales, Sea Lions, Harbor Seals, "Stuffted Tuffted" Puffins (an inside joke), and many other bird species. We do recommend a cruise trip at Kenai Fjords National Park if you are traveling to Alaska and visiting Seward..
To see more of our photographs of the Seward area, click this button.
Glacier National Park
Glacier National Park……….. our second home!!! We cannot say enough about the grandeur of Glacier National Park. We have spent many days hiking in Glacier since 2003, and we NEVER get tired of it !!! However, we are tired at the end of every hike.
To see more of our photographs of Glacier National Park, click on this button.
Our Glacier National Park Photos
I realize that this is not my 'usual' Blog, but you know to expect just about anything from me…………. If you would like to leave me a note about My Blog, go to our Contact Us page and leave me an email.