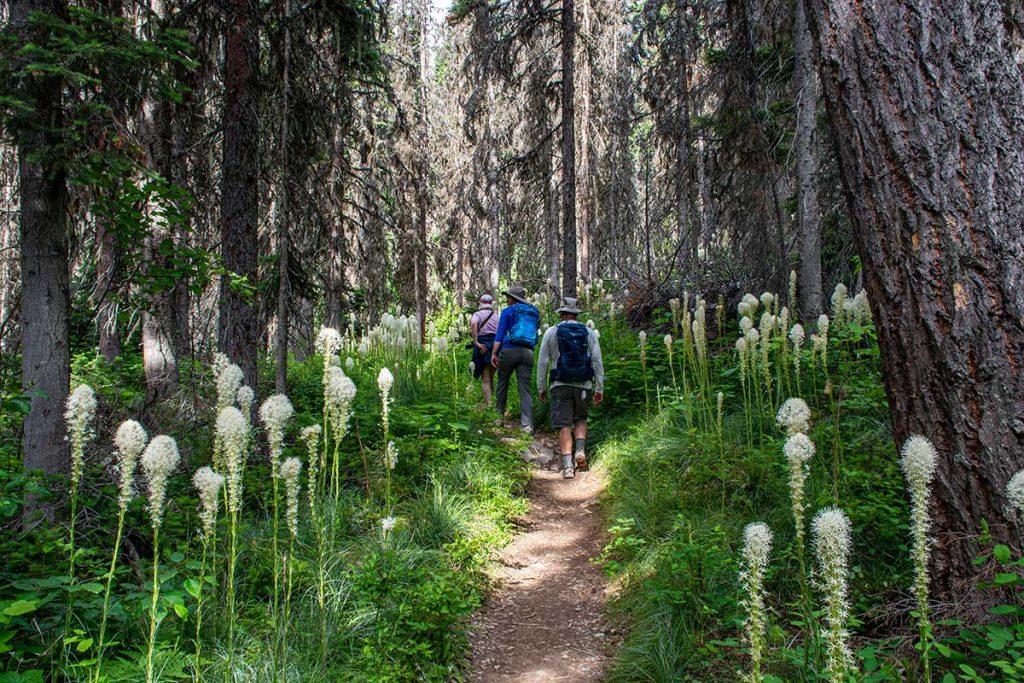 Hike to
Deadwood Falls
Glacier National Park
Join us for a hike to one of Glacier's many beautiful water features which is often overlooked by most park visitors……most likely because it is not shown on the park map.
Debbie and I met our friends, Vicki and Dave at the St. Mary Falls Trailhead a few minutes before 8:00 am for a hike to Deadwood Falls. It was a gorgeous day with sunshine and cool temperatures to start, and heading up into the high 70's. Our walk started out uneventful (at our age, uneventful is good) as we headed down the trail, but we were soon interrupted by a pair of Northwest Hairy Woodpeckers scolding us for being in their territory.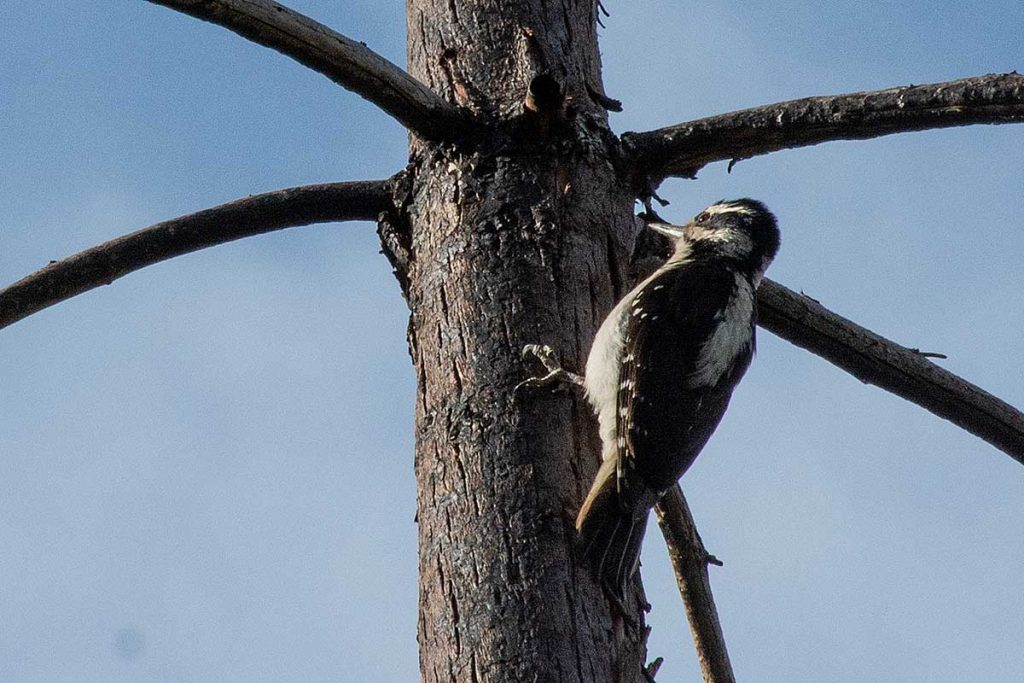 These little woodpeckers can make a LOT of noise! They may be small, but that seems to have nothing to do with their vocal ability. I think you could probably hear them from a mile away or so!
As we headed on down the trail, we walked by some rock outcrops covered with moss. In the spring and early summer there are always small waterfalls cascading over the ledges. They are covered with tiny wildflowers that are just magnificent.
Mountain Hollyhock was in bloom along the trail. It is a beautiful wildflower. As I saw them along the trail, it brought back awesome memories of my Grandma and Grandpa's home in Southern Illinois. Around the well and along the fence between the back yard and the garden, (Grandpa always had a large garden) were dozens of Hollyhocks. I spent many hours watching the bees and hummingbirds feed on the nectar from the flowers.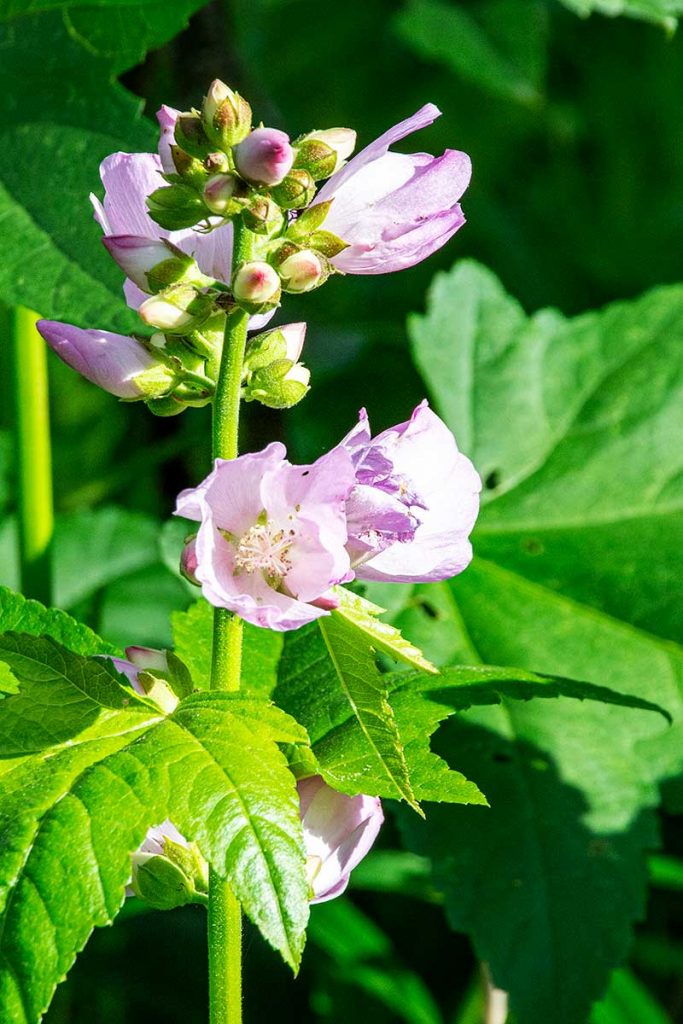 Continuing on along the trail, we were overwhelmed by the number of Bear Grass blooms. This plant is also known as Indian Basket Grass. The Native Americans were able to make baskets from the blades of this grass that were so tightly woven that the baskets were waterproof. The blades of this grass are surprisingly strong. Bear Grass blooms erratically, often it is 5 to 7 years between 'bloom cycles' but it has only been 2 this time as it bloomed profusely in 2017.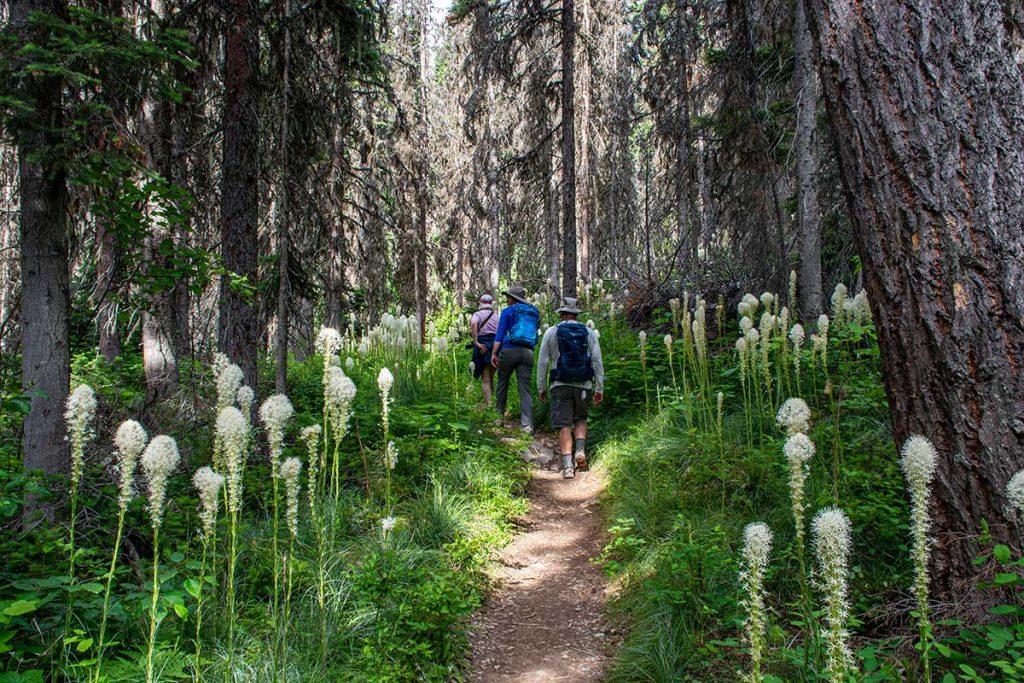 We call them Forest Candles, lighting up our way! Hit by sunlight they just seem to glow.
Along the trail we also came across patches of Self-Heal. Sometimes called Heal-All, this plant gets it name for it's medicinal properties.
It has been used in the treatment of IBD, Crohn's disease and Ulcerative colitis, diarrhea, colic and gastroenteritis. It has also been used for mouth and throat ulcers, sore throat and internal bleeding. I am NOT recommending the usage of this plant as a medicine however, just sharing some information that is available on WebMD and many other places.
We arrived at Deadwood Falls with the morning Sun lighting up the lower Falls. Reynold's Creek drainage is from Reynold's Mountain, Clements Mountain, Big Drift, Piegan Mountain, Cataract Mountain, Siyeh Mountain and the Going to the Sun Mountain. That is a lot of area so you can see why this stream rages in the early Spring. Now that it is July, it has slowed a lot but there is still a lot of water pouring over the Falls.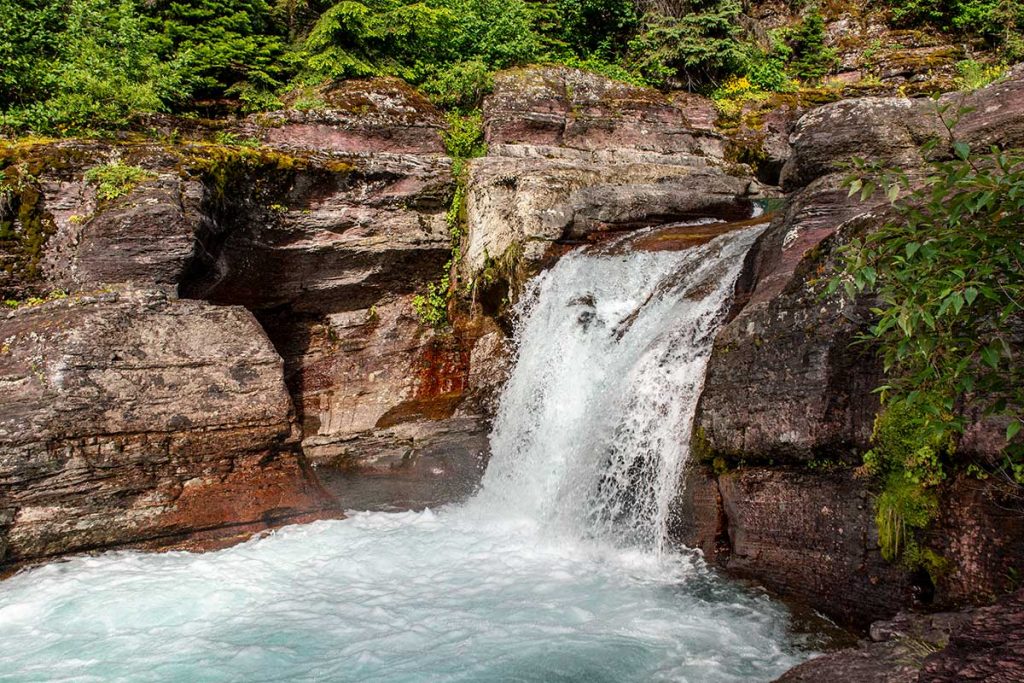 There was so much water coming over the Falls that we could not see the 'depth' of the pool below so we've added a couple of photos from 2011 (the only other time we have been to Deadwood Falls).
In these images from 2011 you can see how deep the water is below the falls. As much of this water is coming from snow melt it is as clear as 'drinking water', even though we don't suggest anyone drink it without filtering it first as lots of Bighorn Sheep and Mountain Goats drink out of it. Besides all kinds of other critters……
The tree that is down on the other side of the Falls is still there today looking almost like it did in 2011. It had fallen possibly the Winter of 2010-2011 from a heavy snow load as it still had some green needles on it.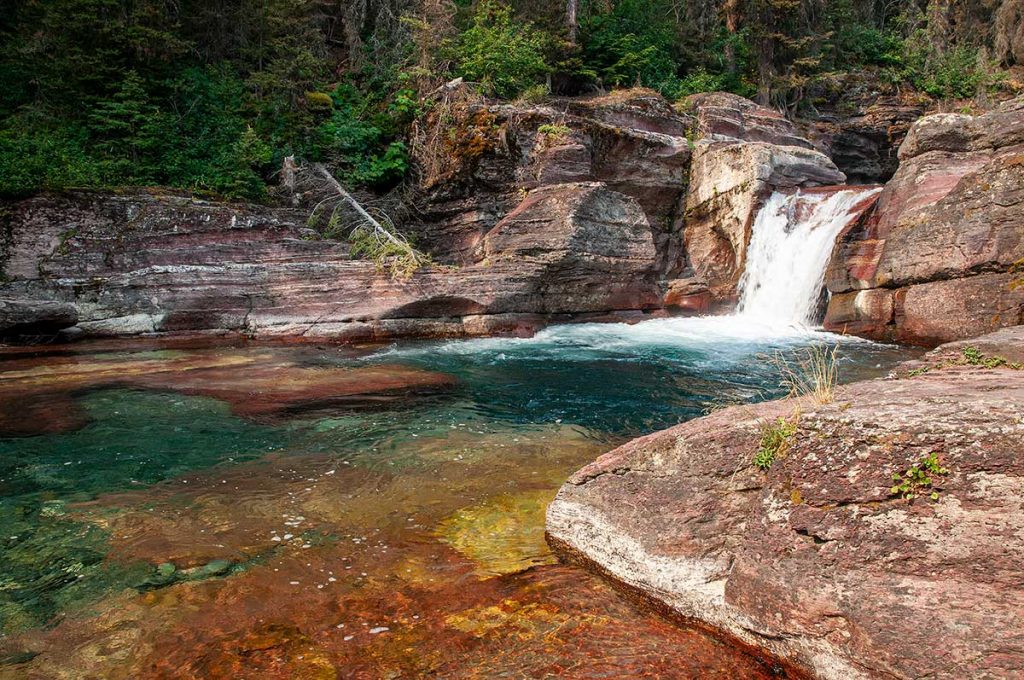 The water is sooooo inviting to just 'jump in', but it is COLD as it is only a few miles from the Snow pack from where it came.
The rock crevices are filled with beautiful wildflowers like the photo below. We're not positive of what it is named, but we think it is Sharp-tipped Sandwort.
We never get tired of closely inspecting these tiny flowers.
The Falls are not the only water feature here. As we continue on upstream above the Falls, the water has eroded a serpentine channel through the rock.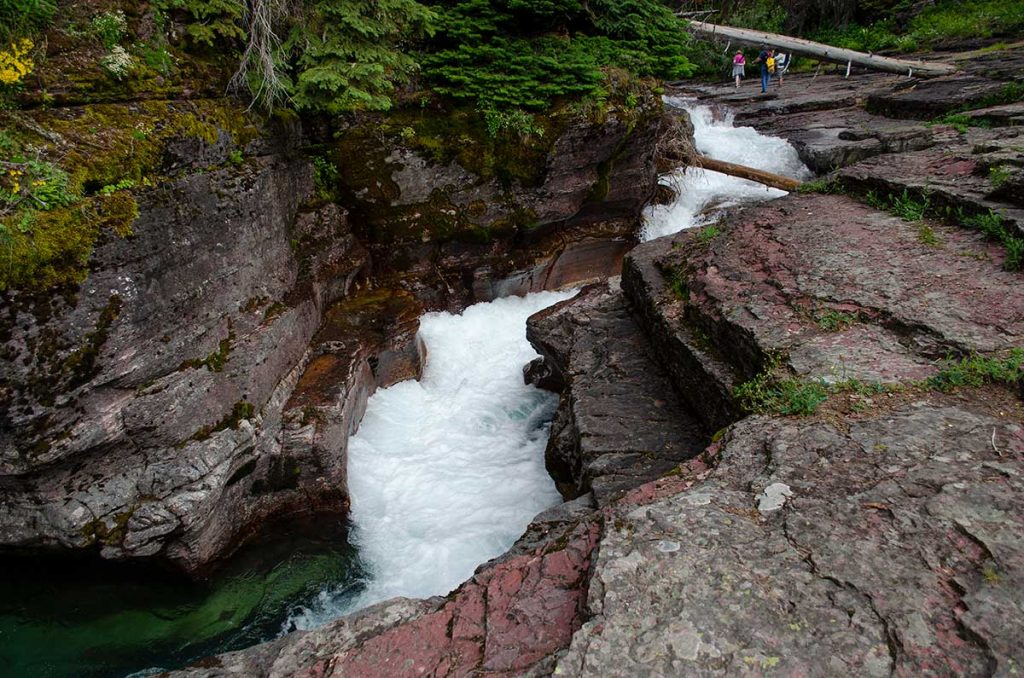 The large log above Vicki and Dave looks just like it did 8 years ago. You cannot tell it has aged a bit from looking at the photos from 2011.
The water really twists and turns as it has eroded a channel through the red mudstone.
There is a lot of flat rock that is perfect for a picnic here at the falls. The fresh mountain air makes this a very restful place to relax, except perhaps for the mosquitoes who find us pretty tasty.
This stream, (Reynold's Creek) has many water features as it cascades over 2,000 feet from Reynold's Mountain. Most of these, although beautiful Falls, cannot be reached as there are no trails that lead to them.
The Clear water cascading over the rocks is

mesmerizing.
These pockets in the stream are 'drilled' into the flat stone surfaces. Theory has it that the rocks swirl in depressions and slowly 'grind' away the stone beneath them. As the stones grind themselves away, new stones wash into the depression and continue 'drilling' the hole.
This is an unusual Waterfall as the water upstream from the Falls is almost as deep as the Falls themselves. As you can see there is a 'dam' of only a few feet of rock that the water is pouring over from this very deep pool. The top of the Deadwood Falls is visible at the left.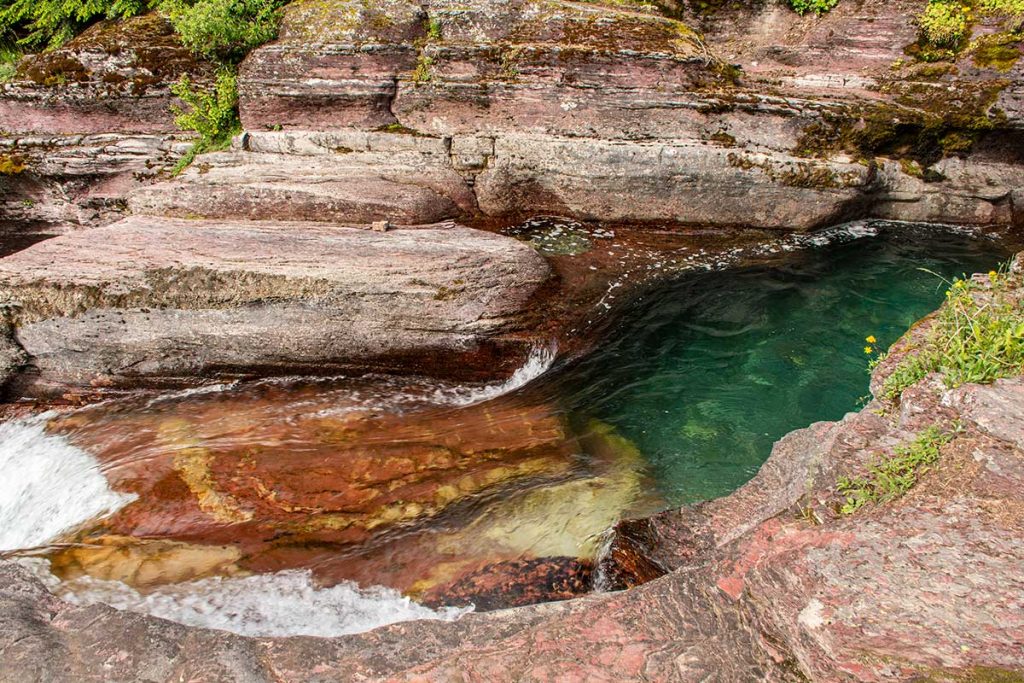 This view shows the deep pool just above the Falls. Dave and I estimated the depth at 10 to 15 feet. Neither one of us would jump in to find out 'cause that water is too COLD!
Dave looking at the natural Arch carved many years ago by the water. That is the tree that I talked about in an earlier photo. No green needles any more, but it looks just like it did 8 years ago otherwise.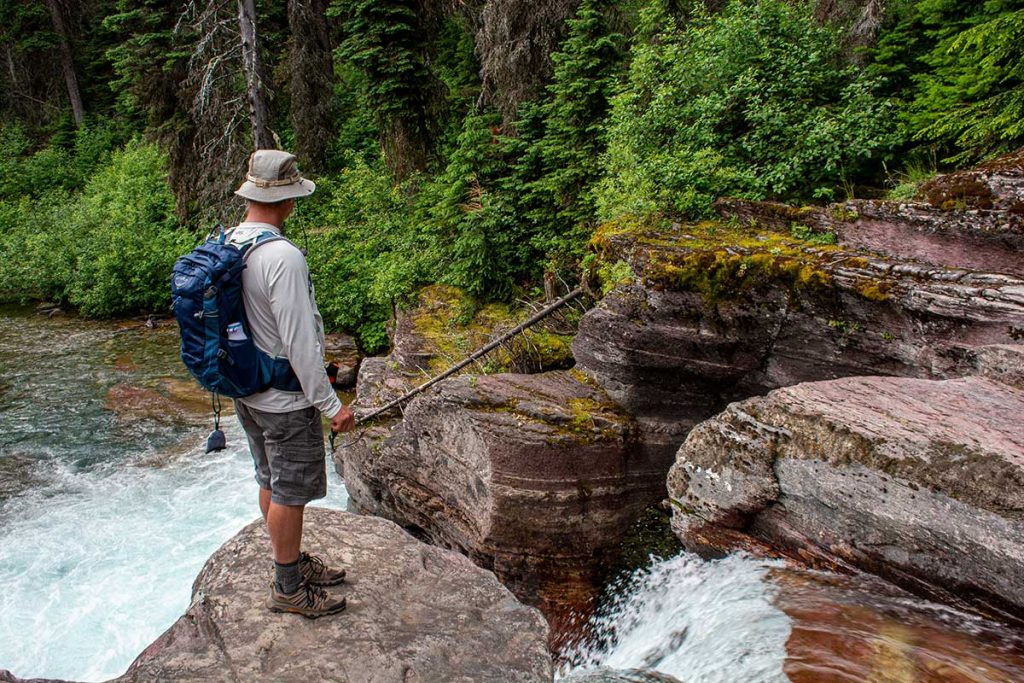 This is the view that Dave was seeing. Sunlight coming in from the other side really lights up the Arch.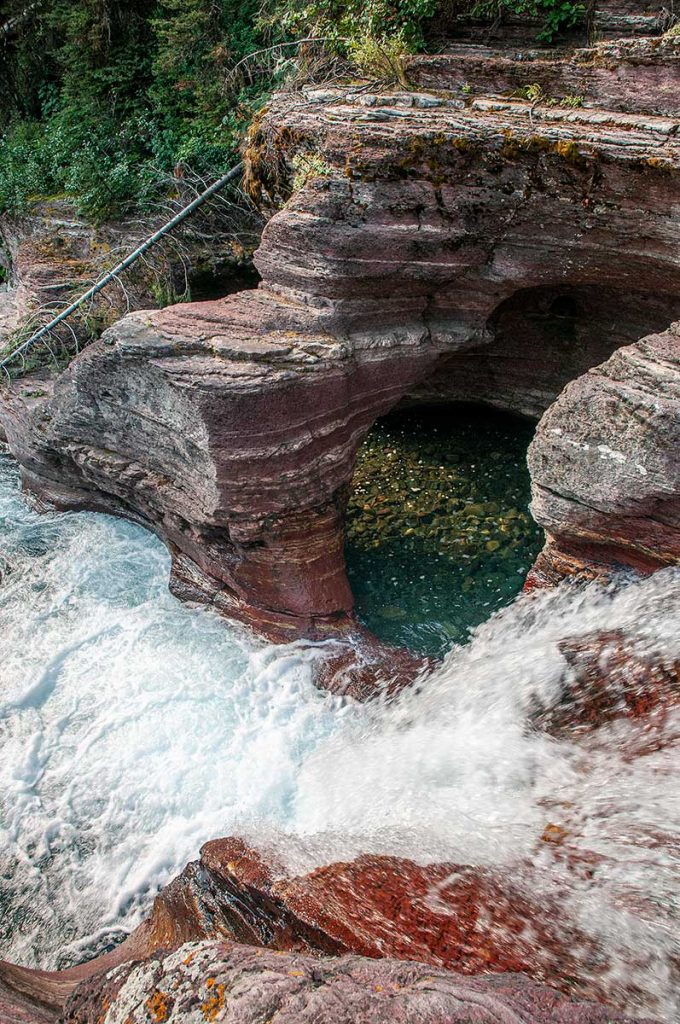 Memories, memories, memories. This is a photo taken in 2011 of our friend, Angela, at the top of Deadwood Falls. She, along with a group of about 15 were hiking with us on our way to Florence Falls. We had stopped here for a break and to take some photos of this awesome Falls.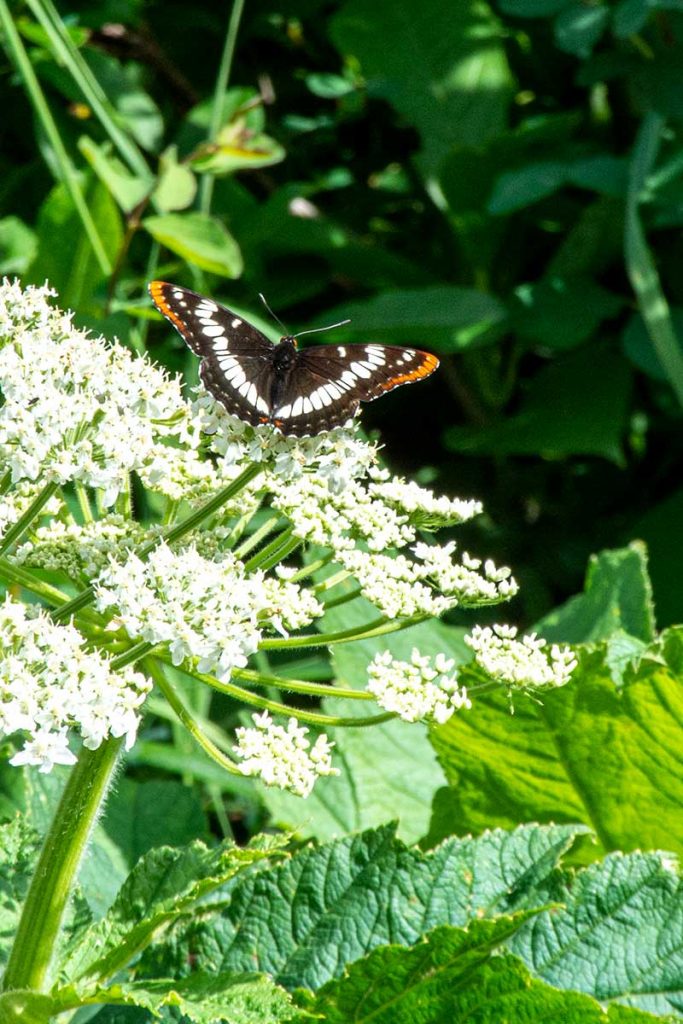 Wildflowers along the trail were bountiful and beautiful, and many different varieties.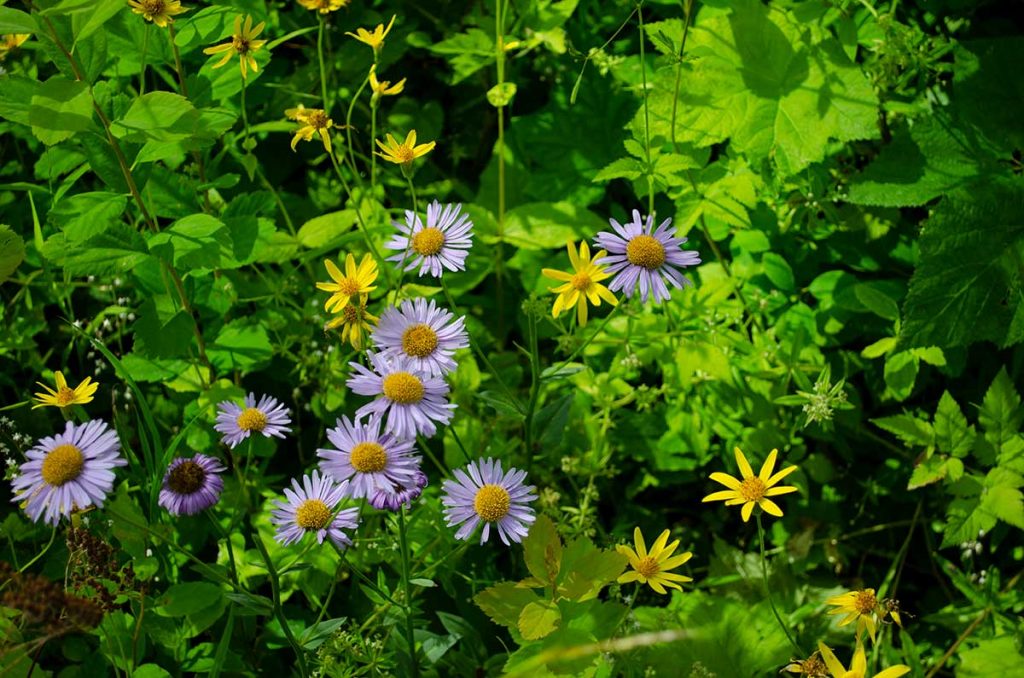 Bunch berries were in bloom along the trail and it was hard not to step on them as there were so many in places.
Almost back to the parking lot. The sun is getting hot and we are ready for LUNCH and a coll down!!! So our next stop is just down the road at the Rising Sun's restaurant, Two Dog Flats.
This area was burned over in 2017 and looks stark, yet the forest floor is covered with wildflowers that have not been able to grow and bloom in many years. After a forest fire the sunlight is able to get to the forest floor and seeds sprout that have been dormant for, well, we just don't know how long………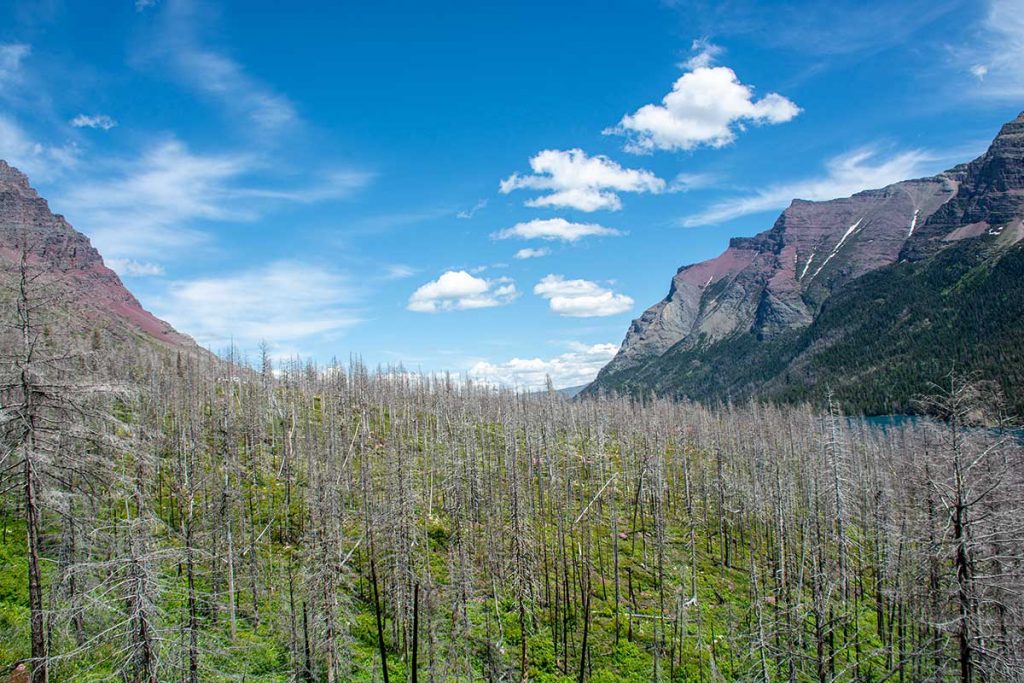 We noticed lots of Pine, Fir and Larch coming up in the understory, just 2 years after the fire and with growth of a foot or more.
I hope you enjoyed the the hike with us and if you happen to find yourselves in Glacier National Park, consider a hike to Deadwood Falls. It is not a long hike by Glacier's standards, just about 3 1/2 miles round trip from the St. Mary Falls parking lot. It is about a mile closer if you hike from the Jackson Glacier Overlook parking lot. But, from the Jackson Glacier Overlook the trail drops about 650 feet in 3/4 mile! And the climb out is strenuous!!! And at our age, it is easier to walk an extra mile on the flat instead of climbing 650 feet almost straight up!!!
If you have questions, comments or want to converse about this post, please contact us…….