Hike to McDonald Bridge
Sunday was a beautiful Montana day! Debbie and I just couldn't sit around the house, so we grabbed our snow boots and headed for Glacier National Park. We drove up to McDonald Lodge (which is not open, but that is as far on the Going to the Sun road that you can drive) and put on our snow boots and started hiking up the Going to the Sun Road walking on about a foot of hard packed snow. Lots of people hiking, snowshoeing, cross-country skiing and snowboarding. We talked to a small group of young people that had hiked up to the Mount Brown Lookout (a five mile hike) and snowboarded back down. They were thrilled, and we were exhausted just thinking about the climb up there! That is not a climb that WE would do!
McPartland Mountain
As we started up the road, we were greeted with awesome views of McPartland Mountain, rising up 8,413 feet. Walking was good as the snow is really packed down by hiking boots, snowshoes, and skis. The temperature was in the low 40's, but it felt like 60's. The sun was very warm and we found that we had worn too many clothes!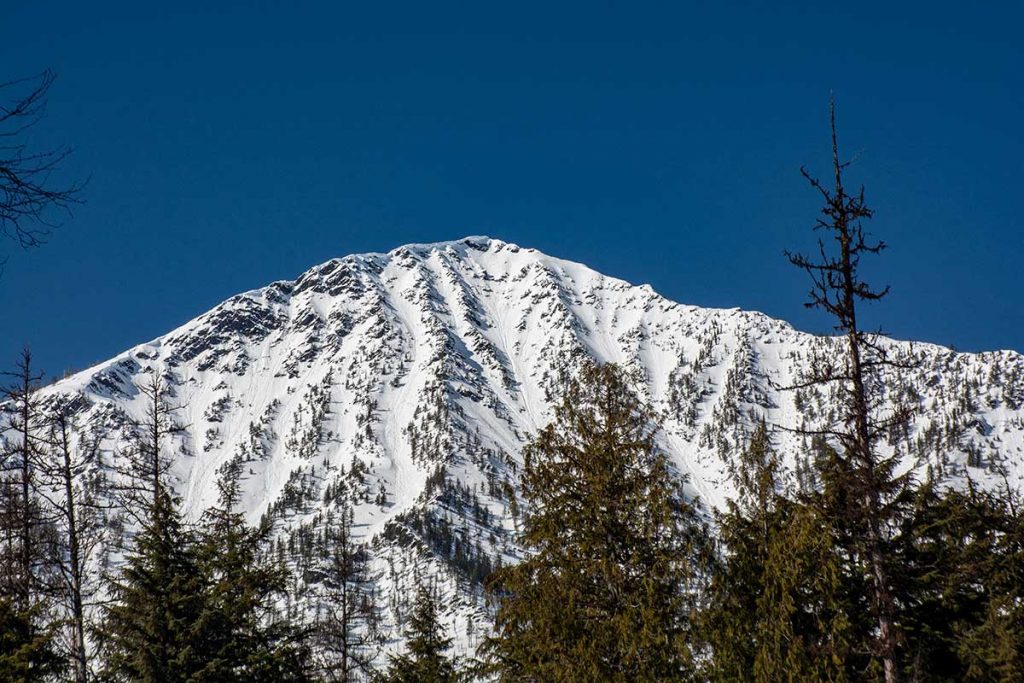 Stanton Mountain
As we walked along, Stanton Mountain was to our left. At 7,750 feet it is not as high as McPartland Mountain but being the closest Mountain to the East of the North Fork of the Flathead River, it looks much higher.
Mount Cannon
At every turn, we were awed by the views. As the road turned a little to the right Mount Cannon came into view. Mount Cannon is 8,953 feet high. It seems that it is a high mountain here in Glacier, but some sites list 61 peaks over 9,000 feet and the highest in the Park is Mount Cleveland at 10,466 feet.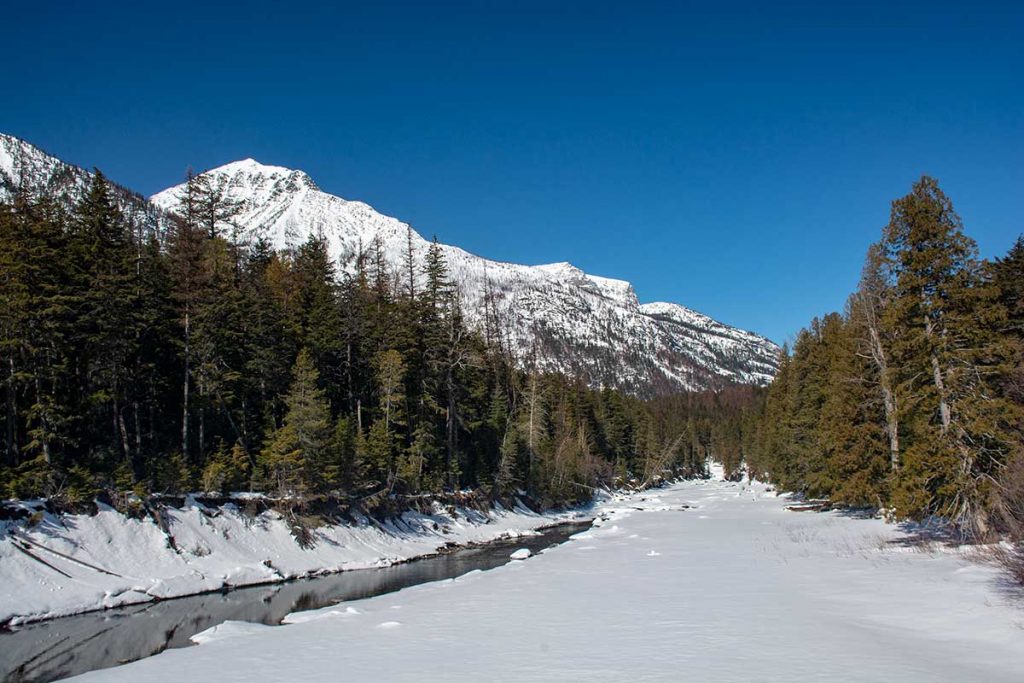 McDonald Creek
As we walked out on the bridge over McDonald Creek, we were mesmerized by the views of McPartland Mountain above the Creek.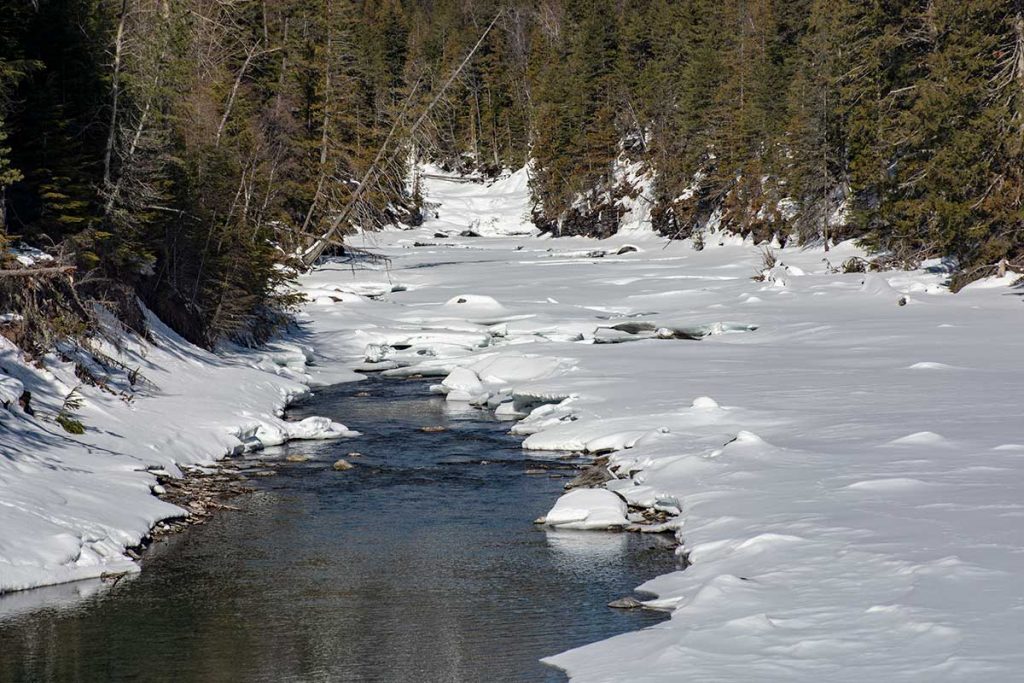 McDonald Falls
The Snow and steam rising from McDonald Falls freezes and forms a bridge over the Falls. (Not one you can walk on!) You can hear the water poring over the Falls but you can't see any water at all. The water in the creek is moving fast enough to keep from freezing but somehow the Falls become covered with an ice cap.
Mount Cannon
As we continued across the bridge we were taken by the awesome view of Mount Cannon and the clear water of McDonald Creek.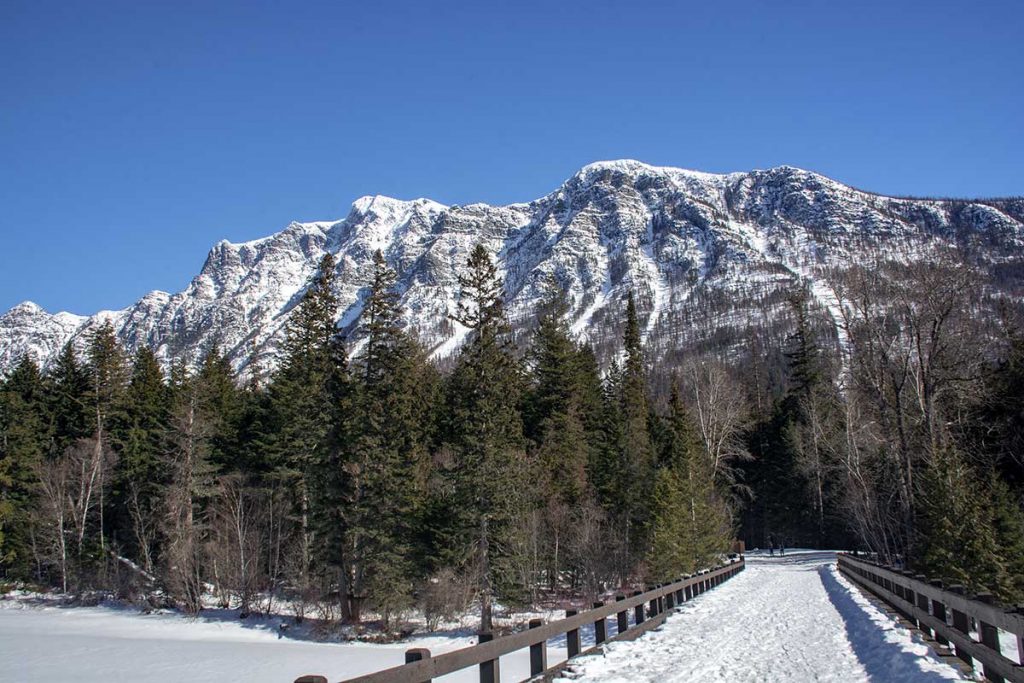 Mount Brown
Walking back across the bridge we were treated to spectacular views of Mount Brown. This Mountain is 8,566 feet high which is 5,410 feet above where we are standing, over 1 mile vertically above us. All we can say is 'WOW'.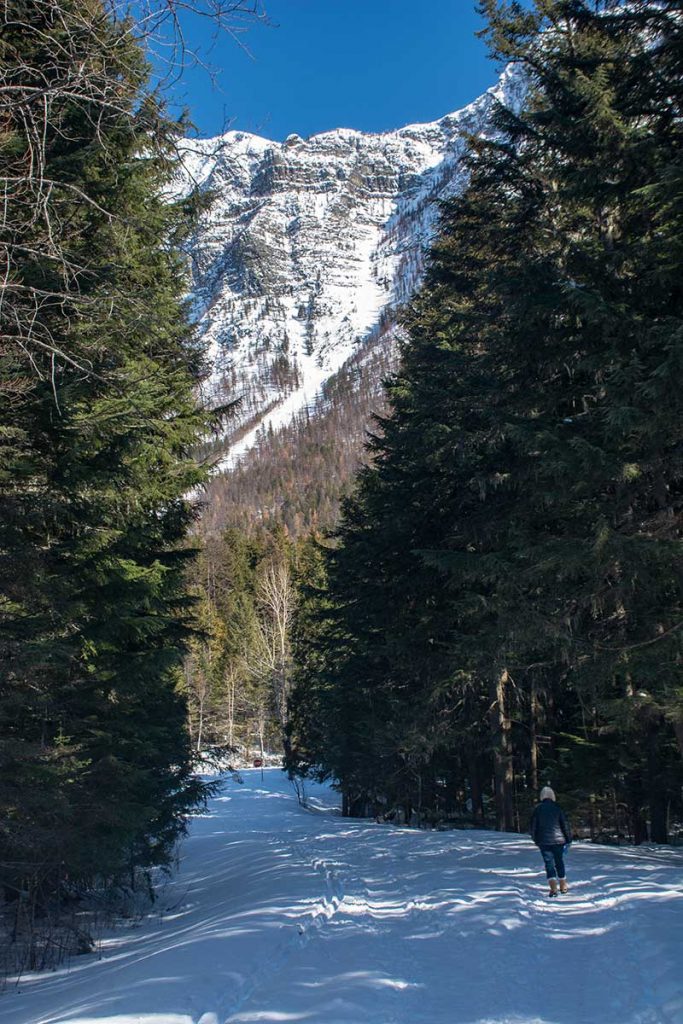 Heading back to the Going to the Sun road
As we headed back down the road I am reminded of walking in a 'post card' of a winter wonderland.
Looking up at Mount Brown
Looking up at Mount Brown we see a lot of dead looking trees, which they are not. These are the Larch species, sometimes called Tamarack, which like deciduous trees, loose their needles in Autumn. In the fall, they turn a beautiful golden yellow, but look dead in the winter. In early spring, they are a vibrant light green. So to say the least, they are one of our favorite trees out here.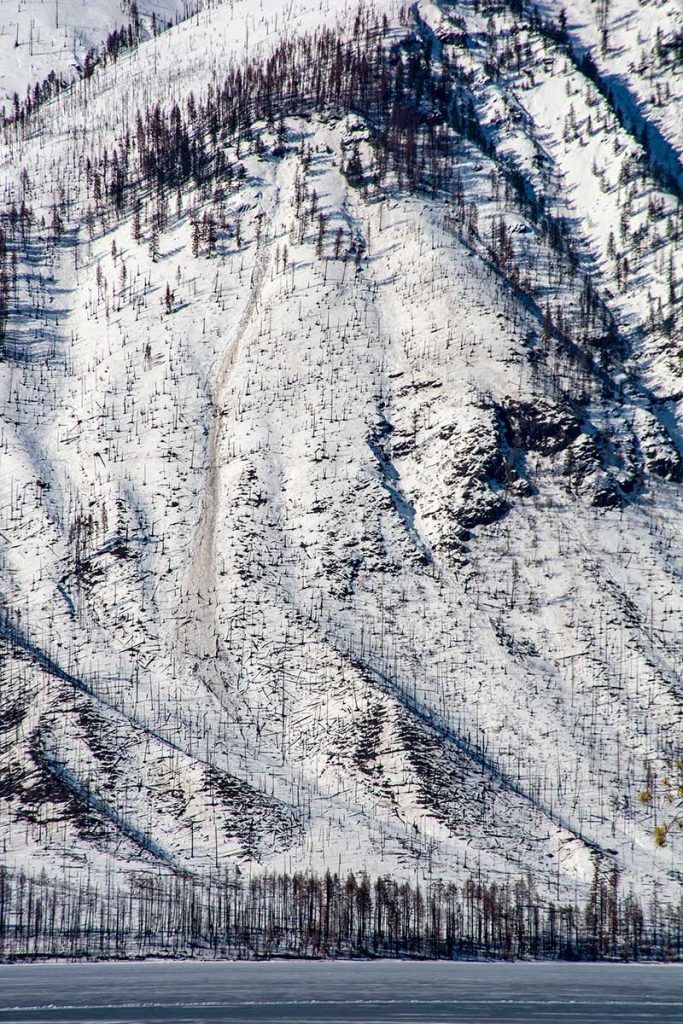 Avalanche
As we were walking back to McDonald Lodge, I heard something that sounded like a snow plow in the distance. Knowing that we were over 10 miles from the closest road west of us, I realized that I was hearing an avalanche on Stanton Mountain. When we got back to the car, we headed on back down the lake to Apgar and stopped to take a photo or two of the Mountainside in the area I had heard the avalanche. Evident in the photo is a brown streak in the middle of it of an avalanche. This was a 'small one' in comparison to what they are like in the higher mountains, but is still is about 1,500 feet down the mountainside.
Please send me a note if you enjoyed this Blog and if it reminds you of a winter hike. I would love to hear about your hikes, even if they are in Florida, Maine, Arizona, or wherever………..